Trees cut illegally for Mumbai Metro-3? Bombay high court asks MMRCL to respond to plea
Jun 27, 2017 10:09 AM IST
Mumbai city news: A resident, Kunal Birwadkar, alleged that the MMRCL and the Brihanmumbai Municipal Corporation were illegally felling trees
The Bombay high court on Wednesday directed the Mumbai Metro Rail Corporation (MMRCL) to file a reply following allegations made by a resident that the authorities were arbitrarily and illegally felling trees across South Mumbai to make way for the Mumbai Metro-3 project.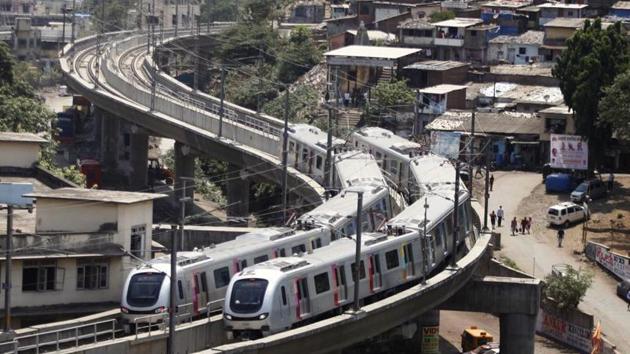 A bench comprising justices PD Naik and MS Karnik was hearing an application filed by a city resident Kunal Birwadkar alleging that the MMRCL and the Brihanmumbai Municipal Corporation (BMC) had been felling trees in violation of the terms set by the courts, and that in some areas, even those trees that were supposed to be uprooted and subsequently transplanted at alternate sites, were being indiscriminately felled.
Birwadkar also submitted in court the list identifying those trees that the authorities had permission to cut and some photographs showing that even such trees that were not in the list eye being cut.
Birwadkar claimed that the BMC and MMRCL were violating several other terms, that on many occasions when the trees were being felled, a tree officer, who is required to accompany the corporation on such assignments, was absent, that the high court appointed committee to oversee the grievances is yet to become functional.
He sought that the court grant a stay prohibiting the authorities to not cut any trees pending hearing of his application.
The court, however, refused to grant a stay and posted the matter for hearing on Friday, directing that MMRCL file its reply by then.
More than 5,000 trees are proposed to be cut across south Mumbai to accommodate the Seepz-Colaba Metro-3 project.
The Bombay HC that had earlier granted a stay on the felling of trees, had vacated the stay on May 5 this year.
It had thus, granted a go ahead to MMRCL to fell the trees though, observing that some sort of a "balance" needed to be established between developement and environment.
The court had then accepted an undertaking given by MMRCL that for every tree that is cut in south Mumbai another one will be planted at the same spot after the construction work is over.
The 33-km Line III of the Mumbai Metro, also referred to as the Colaba–Bandra-SEEPZ line, is a part of the metro system which will connect Cuffe Parade business district in South Mumbai to SEEPZ in the north-central.
Read
Environment ministry allows MMRC to cut 1,000 mangrove trees at BKC, Dharavi for Metro 3