Uddhav Thackeray: If BJP is trying to win 350 seats on its own, why does it need an ally?
Updated on Jul 26, 2018 01:07 AM IST
Shiv Sena will contest upcoming elections solo, Uddhav Thackeray said in the final part of his interview published in the party's mouthpiece 'Saamana' on Wednesday.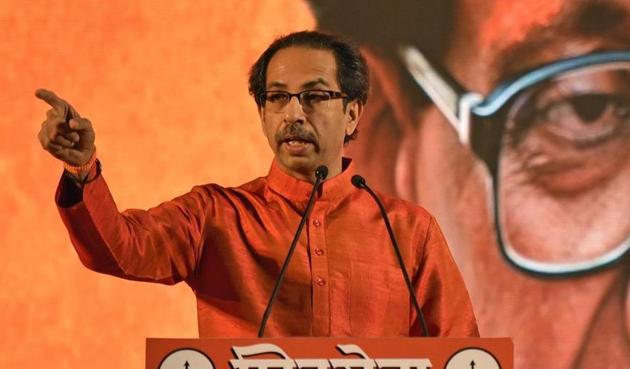 The Shiv Sena will contest the upcoming elections solo, without getting into an alliance with the Bharatiya Janata Party (BJP), Sena chief Uddhav Thackeray reiterated on Wednesday, in the final part of his interview published in the party's mouthpiece 'Saamana'.
"The decision that the party will contest solo has been taken," Thackeray said just days after BJP national president Amit Shah asked state party leaders to prepare to contest alone in the Maharashtra Assembly elections. "If they are working towards winning 350 seats [in Lok Sabha] on their own, why do they need an ally? If they are working towards wining 350 seats on their own, how am I at fault for working on going solo," he asked.
Last month, Shah had met Thackeray at his residence on Bandra, but the Sena chief claimed that "Shah had come to Matoshree as part of his party's Sampark Abhiyaan. He also met others in the city". Thackeray, however, did not disclose what was discussed between them.
The daily newspaper's executive editor and Rajya Sabha MP Sanjay Raut, who interviewed Thackeray which was released in three parts, asked Thackeray if the Sena would contest all 288 seats in the Assembly polls. "We will definitely contest. The decision to contest without an alliance was not mine alone, the national executive of the party has passed this resolution," Thackeray said, adding that he thinks holding the general elections and state Assembly polls at the same time would be an "opportunity".
In the final instalment of the interview, Thackeray continued his criticism of the BJP and Prime Minister Narendra Modi. Issues that were there in 2014 have still not been resolved, he alleged, raising questions about rising unemployment and GDP growth. "Employment can become a major issue for the upcoming elections. The Rs15 lakh that was promised have not come into people's bank accounts. Instead, the tax payers' money has been used for advertisements about various government schemes. When they say the GDP has increased, how does one measure it? If it's going up, why aren't people's salaries rising; why did milk farmers have to resort to an agitation; why are unemployment figures going up? If GDP has risen, it is a good thing, but I don't see it making a difference to the lives of the common man and the farmers in the state."
Taking on the BJP, Thackeray said prime ministers, chief ministers and ministers should stay away from election campaigning as it is not good for democracy. "The prime minister, chief minister and ministers should stay away from election campaigns. They take oath to serve the people equally, so if they promote a party while holding the post, it is wrong in democracy. If a PM is going to his party's rallies, he should address rallies of other parties as well, not just of the allies," he said.
Thackeray, who is working on strengthening the party across Maharashtra, said he would soon visit Ayodhya and Varanasi. "Ram Mandir could be made into an election issue. Since nobody [in the BJP] is taking about Ram Mandir, it shows that the election is still distant. I don't know when the work will start, but I will go to Ayodhya once, and to Varanasi, too. I will go see if the Ganga is clean or not," he said.
He also said Modi should solve the "problem of Pakistan once and for all". "Our soldiers are dying on our soil. Indira Gandhi is being criticised, but she managed to divide Pakistan in two parts," Thackeray said.