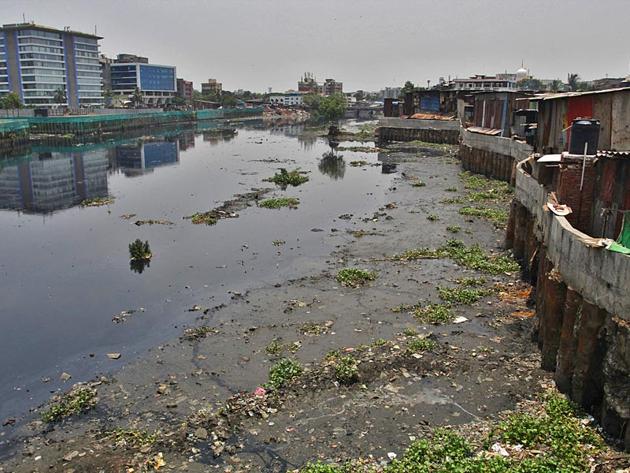 Untreated sewage has polluted 7 spots along Mumbai's coast
Study done in March by the Maharashtra Pollution Control Board found that Mahim creek has the highest faecal content.
UPDATED ON JUN 19, 2018 12:00 PM IST
Coastal water quality at seven out of 12 locations off Mumbai is either polluted or heavily polluted, found a study by the Maharashtra Pollution Control Board (MPCB).
The pollution, according to the water quality index (WQI), was the worst at the mouth of the Mithi river where the index was 27.99 (classified as very bad/ heavily polluted).
The WQI provides a single number (grade) to show overall water quality of a sample (location and time specific) based on several parameters.
Versova, Worli, Nariman Point, Malabar Hill. Haji Ali and Mahim creek are in the 'polluted' category. Gateway of India, Thane creek, Juhu Beach, Dadar chowpatty and Girgaum Chowpatty are non-polluted, says the study.
The best coastal water was near Elephanta Island in Thane creek, followed by Dadar and Girgaum Chowpatty. The readings indicate that water quality has improved from last year when all 12 locations were under the 'polluted' or 'heavily polluted' category.
"We have seen a marked difference in the water quality across five locations in Mumbai that are now identified as non-polluted," said YB Sontakke, joint director, water quality, MPCB.
"The Brihanmumbai Municipal Corporation (BMC) has stepped up its efforts by improving sewage treatment facilities at several locations. We expect that water quality at all 12 locations will be 'non-polluted' in one year's time when the BMC will setup all its new sewage treatment plants," said Sontakke.
The study done in March found that Mahim creek had the highest faecal coliform (FC) content, a bacterium found in human and animal faeces, 16 times the safe limit. FC — measured as colonies of coliform per 100 millilitre (ml) of water — was as high as 1,600/100 ml at Mahim creek as against the accepted limit of less than 100/100 ml as per the Central Pollution Control Board (CPCB). FC levels were above acceptable levels at Haji Ali at 110/100ml while other areas recorded FC content within the accepted mark.
Hindustan Times had reported on June 15 that a study by the National Institute of Oceanography found that the water along Mumbai's beaches contains bacteria that are resistant to more than 12 sets of antimicrobial drugs.
Meanwhile, the level of biochemcial oxygen demand (BOD) — indicating the level of oxygen that aquatic life need for survival — was the highest in Mithi at six times the safe limit.
The CPCB report said that levels at Mithi river was 60mg/l as against the safety standard of 20 milligram per litre (mg/l) BOD.
The BOD levels at Mahim (54mg/l) and Worli (46mg/l), were also above safe standards.
HT had reported on May 17 that MPCB had not uploaded its monthly water quality bulletin for coastal and inland water bodies of Maharashtra on their website since November last year. Over the past week, MPCB uploaded water quality details from December to March, said officials.
Sontakke said the reason for the poor water quality was the untreated sewage that flows into the sea. "Some of our samples indicate higher figures because they are at the mouth of these nullahs where maximum domestic waste is accumulated. However, owing to dilution further into these areas, the water quality gets better. For Mithi, a full-fledged revival plan is underway as per directions by the Supreme Court. We expect that the results after monsoon would show a drastic improvement," said Sontakke.
According to BMC's sewage operations department, the city produces 2,700 million litres per day (MLD) of sewage. Of this, 1,500 to 1,800 MLD is treated at Bhandup, Ghatkopar, Versova, Malad, Colaba, Worli and Bandra sewage treatment plants (STPs). Private STPS are treating around 900 to 1,200 MLD sewage of hotels and housing complexes while the rest flows into rivers, streams, creeks or directly at sea.
"We will construct seven waste water treatment facilities at Colaba, Worli, Dharavi, Versova, Ghatkopar, Malad and Bhandup. Work has started at Worli, Versova and Dharavi and we expect it to be completed by 2025," said a senior civic official from BMC's sewage operations department.
"The existing STPs are also being upgraded and we have installed trash booms to collect domestic waste at several areas along the western suburbs such as Irla pumping station, Lovegrove, and Mogra nullah. They will also be installed at certain areas which see high domestic waste such as Mithi, Dahisar, Oshiwara and Poisar," he added.
Close