Latest from water pollution
Juhi Chawla has complained about a stench in the air in South Mumbai. She has said its like people in the area are living in a sewer.

Published on Oct 29, 2022 01:08 PM IST
Delhi has an estimated population of about 3 crore and is one of the largest cities in the country.

Updated on Aug 25, 2022 07:06 AM IST
While experts say using this water occasionally for bathing is largely harmless, drinking it can lead to chronic toxicity and impact organs, such as the kidneys or intestines, in the long-run.

Updated on Apr 13, 2022 01:49 PM IST
According to a report by a monitoring committee appointed by the National Green Tribunal in 2018, the 22-km stretch of the Yamuna between Wazirabad and Okhla, accounts for 76% of the total pollution in the river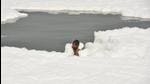 Updated on Nov 09, 2021 02:15 AM IST
By
Paras Singh
,
Jasjeev Gandhiok
, Hindustan Times, New Delhi
In the report, researchers discovered 56 new contaminants, including pesticides and radioactive materials, in tap water.

Updated on Nov 04, 2021 01:03 PM IST
By
hindustantimes.com
| Written by Shivani Kumar | Edited by Amit Chaturvedi
, Hindustan Times, New Delhi