Want to pet and play with dogs? Visit this care centre in Mumbai
Published on Aug 01, 2017 10:30 AM IST
Niharika Sekhri, the founder of a day care centre for dogs in Andheri, recently came up with the concept of petting hours. Visitors can visit the centre between 12noon and 5pm and spend an hour with the friendly canines by paying Rs200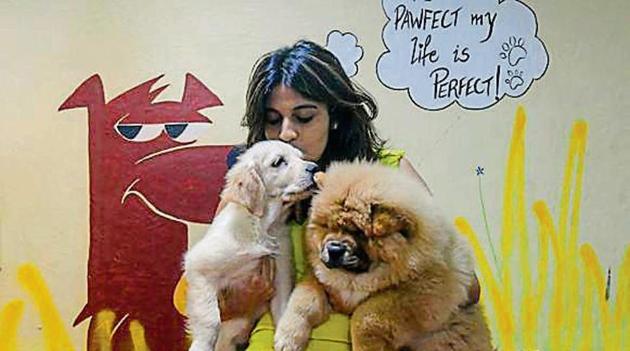 Hindustan Times |
, Mumbai
Yesha Kotak
As Bhargav Sanathara, a student from Doha, cuddles and plays with a therapy dog at a dog care centre at Andheri, the smile on his face shows that he is having a good time. The friendly dogs at Pawfect Life greet and snuggle up to him with tails wagging.
"Spending time petting dogs destresses me," said Sanathara, adding that the dogs in his country are not so friendly.
Niharika Sekhri, the founder of a day care centre for dogs in Andheri, recently came up with the concept of petting hours. Visitors can visit the centre between 12noon and 5pm and spend an hour with the friendly canines by paying Rs200.
"I have been running the centre for two years. People would ask me if they could spend time here. I started the petting hours around two months ago," said Sekhri.
Sekhri has six resident pets who are being trained to be therapy animals.
"People would tell me that they are depressed and that they feel better spending time here. The dogs are being trained to help them," said Sekhri.
Radhika Nair, co-founder of Animal Angels Foundation, has been using pet therapy for more than 12 years. "Animal assisted therapy and animal assisted activities have positive effect on a person's mood and behaviour," said Nair.
Close Story
Personalise your news feed. Follow trending topics