Water woes worsen: Panvel activist seeks court's intervention, files PIL
Nodes under the Panvel City Municipal Corporation (PCMC) have severe water shortage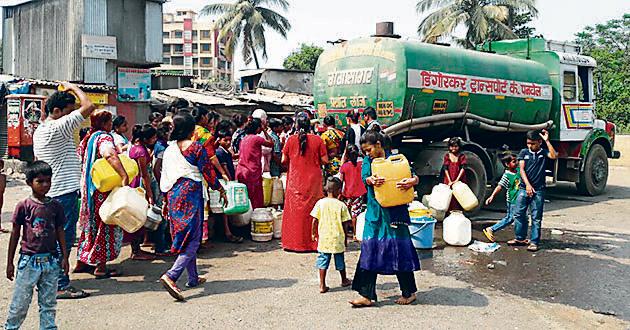 Published on May 03, 2018 12:33 AM IST
Alarmed by the increasing water crisis, a resident of Khanda Colony filed a public interest litigation (PIL), requesting the court to direct civic authorities to resolve the issue. Nodes under Panvel City Municipal Corporation (PCMC) have severe water shortage .
"Every summer, it is same old story. Water cuts are imposed and residents are forced to rely on water tankers. Numerous requests to officials didn't yield any result. City and Industrial Development Corporation (Cidco) and the PCMC keep shifting responsibility. I filed a PIL to highlight the problem and get a solution," said Vishnu Gavali, 51.
The PIL states that each citizen has the right to food, water and decent environment under article 21 of the Constitution but the Cidco has failed to provide basic amenities.
Panvel is going through a severe water crisis for the past three months. Some areas do not get water supply for three to four days at a stretch.
"Many areas in Panvel get water every alternate day. Villages under NAINA don't get water for three to four days. Potable water has become scarce. Cidco has been promising to provide basic amenity but nothing has been done. As airport work has started, a lot of water is being used for the construction activities but sadly, the locals have been neglected," said Gavali.
Cidco supplies water in its nodes every alternate day but the supply is low pressure.
Satish Mane, 45, a Kharghar resident, said "Cidco takes credit in developing Kharghar but we have been facing water problem for long."
Residents said that Cidco had given permission to many housing projects which is one of the reasons for water shortage.
"Cidco has given permissions for so many upcoming projects in the city, I don't understand how they would fulfill water needs of so many projects," said Lokesh Rane, 49, Roadpali resident.
Civic commissioner Ganesh Deshmukh said, "Measures have been taken to solve water problem. Supply to Panvel has been increased from 8mld to 14mld. Desilting and sludge removal work in Dehrang dam has started. We will also take steps to curb water thefts and wastage."
Nikhil Yadav, assistant engineer water supply department Cidco, said, "There is a continuous effort to improve water supply in different nodes. The pumps have been repaired to improve water pressure."
Close Story
Personalise your news feed. Follow trending topics