Mumbai river foams like Bengaluru lake
Updated on Jun 27, 2017 10:09 AM IST
Mumbai city news: Foam covers Mumbai's Mithi River similar to Bengaluru's Lake Varthur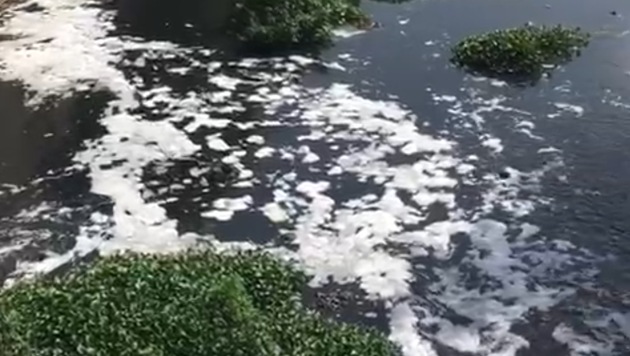 Mumbaiites, if you've spotted thick white foam bubbling to the surface of the Mithi river, beware. Experts say it is dangerous.
The foam, which is the product of large quantities of untreated domestic waste, contains noxious substances that could harm people, birds and animals, said experts. "The foam could cause nausea, vomiting, dizziness, headaches and a number of respiratory illnesses among residents," said a medical officer from Sion hospital.
Citizens said they spotted foam along the riverbanks in Sakinaka, Andheri and Sahar village in Santacruz.
Non-governmental organisation Watchdog Foundation filed complaints with the state pollution board and the civic body on Wednesday, highlighting high pollution levels at the river.
In December last year, the Bellandur and Vartur lakes in Bangalore were filled with effluents, which led to froth and hyacinth accumulating in them. Untreated chemical effluents contributed to the foam.
"The Mithi River Development Authority was set up to protect the river from pollution and ensure its rejuvenation. The authority spent hundreds of crores of rupees to protect the river from abuse and misuse. But, the froth indicates the sorry state of affairs there," said Godfrey Pimenta, trustee, Watchdog Foundation.
HT had reported last month that water at the Mithi river is the most polluted in the city, almost 13 times the safe limit, the state pollution control board's water quality assessment found.
The analysis revealed that the biochemical oxygen demand (BOD) — the level of oxygen that affects the quality of water — was 250 milligram per litre (mg/l) at Mithi. This is almost 13 times the safe limit of 20 mg/l, according to the Central Pollution Control Board. A BOD reading of more than 3mg per litre is unfit for human consumption. Fish cannot survive in water in which the BOD is above 6 mg per litre, according to CPCB guidelines.
Pimenta added that a private builder had dumped close to 200 truckloads of earth in the middle of the river. "This blockade may prevent water from flowing smoothly during the monsoon," he said. He added that the presence of hyacinth in the river indicated that desilting had not been carried out.
State pollution control board officials said they forwarded the complaint to the storm-water drains (SWD) department of the Brihanmumbai Municipal Corporation (BMC), who assured them that the river would be cleaned.
"The white foam surfaced owing to untreated waste from nearby slums. We are aware of the problem and have directed our field officers to clean these areas before the monsoon," said a senior SWD official.