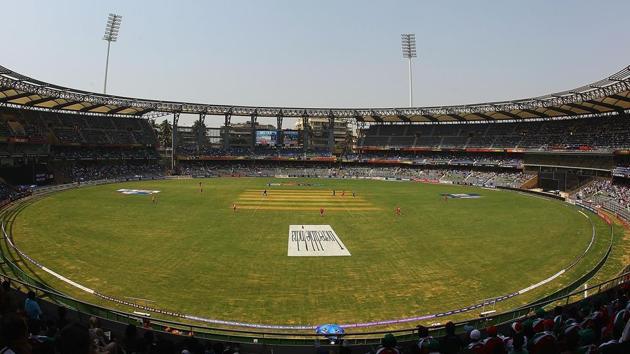 Will policy of not supplying water to Mumbai's Wankhede stadium for IPL continue, court asks BMC
For three years now, civic body has not been providing special water supply when matches are held, high court told
PUBLISHED ON APR 04, 2018 12:10 PM IST
The Bombay high court on Tuesday directed Brihanmumbai Municipal Corporation (BMC) to file an affidavit disclosing if it will continue its policy to not provide special water supply to Wankhede Stadium for the Indian Premier League (IPL) matches.
The division bench of justice Abhay Oka and justice Riyaz Chagla asked BMC to make a statement that the policy will continue. "In your affidavit you have stated that you have not made special water supply for last three years to Wankhede Stadium," the bench told advocate Suresh Pakale, who represented the civic body. "Will this policy continue," the judges asked Pakale.
Pakale replied saying he cannot make a statement without taking instructions from the BMC's hydraulic engineer and sought time to do so. The judges, accordingly, granted him time till Friday to file an affidavit disclosing whether the civic body wished to continue with this policy.
Responding to a court query, Pakale said the civic body is charging water tax to Wankhede Stadium at commercial rate.
The court was hearing a public interest litigation filed by Loksatta Movement, a non-profit voluntary association, raising concern about large-scale "wastage" of water for preparing cricket pitches and outfields for the T-20 tournament in the summer of 2016 when Maharashtra was reeling under acute water shortage.
It has also sought strict compliance with provisions of the Maharashtra Water Resources Regulatory Authority Act, 2005 in order to ensure that priorities are set and followed in usage of water. The petitioner association claimed more than 60 lakh litres of water were used to maintain cricket pitches and outfields at Mumbai, Pune and Nagpur for T-20 matches in 2016, when almost entire Maharashtra witnessed scarcity of water.
It contended that such usage of water will clearly violate articles 21 and 47 of the Constitution and also of the state's water policy – to give top priority to drinking purpose in case of scarcity and spare as much water as may be possible for the purpose.
The Board for Control of Cricket in India (BCCI) has responded to the PIL stating that it is not involved in maintaining pitches and outfields at stadiums and respective regional associations, which own the stadiums, do it. Mumbai Cricket Association, which maintains Wankhede Stadium, claimed that it uses non-potable water supplied by private tankers – from different wells in Mumbai – for curating the pitch and maintaining the outfield at Wankhede Stadium.
Close