Kids bowled over by royal couple at Oval
For some of the children at the Oval Maidan on Sunday, the Duke and Duchess of Cambridge did not look like the princes and princesses of their imagination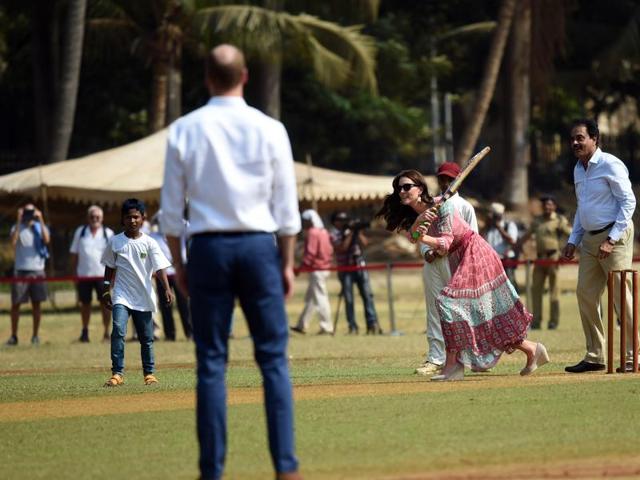 Published on Apr 10, 2016 11:29 PM IST
For some of the children at the Oval Maidan on Sunday, the Duke and Duchess of Cambridge did not look like the princes and princesses of their imagination.
"Some of them felt the princess would have tresses till her knees like the ones in fairytales," said Bina Sheth Lashkari, director and secretary with Door Step School, one of the three non-governmental organisations (NGOs) to benefit from a charity fundraiser that the couple took part in.
Other children, some of whom came from south Mumbai's slums, had a fair knowledge about Prince William and Kate Middleton, who are on a week-long India and Bhutan tour.
"These days, with the Internet and several media reports, many of our children had read up on the royal couple," said Matthew Spacie, MBE, the founder of Magic Bus, another charity to benefit from the fundraiser. Childline (India) was the third beneficiary.
Before taking part in a cricket match with the children, many of whom started schooling late, the royal couple heard a few things the kids had been taught. "I read one to ten in Hindi, but the prince did not understand it. He said he will learn the language when he visits us again," said Reena Chavan, a seven-year-old, who lives in a Cuffe Parade slum.
A small game of improvised dodgeball followed before Prince William picked up the willow, with the ball in cricket legend Sachin Tendulkar's hand, former Indian cricket captain Dilip Vengsarkar behind the wickets and the Duchess at a close in fielding position. "Royal afternoon with the Duke and Duchess of Cambridge. Bowled over by their humility," Tendulkar tweeted.
Ajay Pawar, another child from the slums near Cuffe Parade, became a hero when he caught a ball lobbed high by Kate Middleton.
"The couple asked me my name and said well done," said the eight-year-old. The outing concluded with a joyride on an open bus.
Close Story