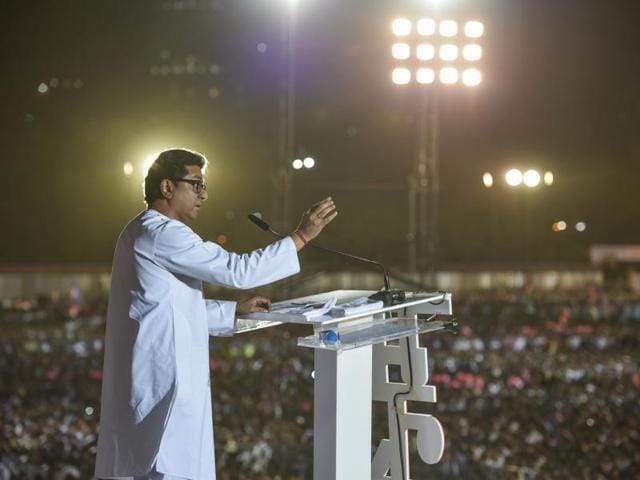 Maharashtra not your birthday cake, Raj roars
Thackeray lashes out at RSS ideologue MG Vaidya and also takes on Modi, BJP and Sena at party's first event on the lines of the Sena's annual Dussera rally
UPDATED ON APR 09, 2016 01:06 AM IST
Seven years after he last held a rally at Shivaji Park, Maharashtra Navnirman Sena (MNS) chief Raj Thackeray addressed a massive gathering at the ground on Friday evening. It was the party's first Gudi Padwa rally, on the lines of the Shiv Sena's annual Dussehra rallies.
Thackeray lashed out at Prime Minister Narendra Modi and the Bharatiya Janata Party (BJP) over the row about chanting 'Bharat Mata ki Jai', saying the BJP must stop distributing certificates of nationalism.
In doing so, he attempted a delicate balance, criticising the BJP while maintaining a Hindutva line by saying that the green in his party's flag stood for "APJ Abdul Kalam and AR Rahman, not Bhendi Bazaar, Behrampada and Bhiwandi". Thackeray also reached out to dalits, saying that the blue in the MNS flag represented their community. He added that his party workers must celebrate Dr Babasaheb Ambedkar's 125th birth anniversary with as much gusto as they celebrate Chhatrapati Shivaji's anniversary.
Thackeray also attacked the BJP and the RSS for the talk around statehood for Vidarbha, and lashed out at the RSS in particular for its role in the nationalism row. He also attacked RSS ideologue MG Vaidya over his comments about diving Maharashtra into four smaller states. "Vaidya says that Maharashtra must be divided into four states. Is it his birthday cake for him to divide it? If the Sangh wants to do all this, let them break their favourite Gujarat apart."
Read more MNS defaces Parel, Dadar, Andheri for Gudi Padwa rally
Mocking the BJP for claiming ownership of 'Bharat Mata ki Jai', Thackeray said that the controversy had been planned by the party and "two Owaisis, who are funded by the BJP". "Indira Gandhi used to proclaim the slogan thrice after each of her speeches. But, you are distributing certificates of nationalism here. You are inventing these controversies only to hide your failures. You are no one to teach us nationalism. If you are going to only put on a show and not deliver, what's the use of the chair you occupy?" he said.
Desperate to keep his flock together before the all-important civic elections in Mumbai and Nashik early next year, Thackeray seemed to have decided to distance his party from both the BJP and the Shiv Sena. In his speech, Thackeray attacked the BJP, Prime Minister Narendra Modi, chief minister Devendra Fadnavis and the Shiv Sena, and barely mentioned the Congress and the NCP.
He also touched upon his pet peeve – 'outsiders' in Maharashtra – and linked the issue to the current water scarcity. Thackeray also made repeated references to Gujaratis and Jains, singling them out for specific criticism. "A farmer committed suicide outside Mantralaya. In his last message he said that youth from Marathwada who migrate to Pune are not getting jobs because of people from Uttar Pradesh and Bihar are taking them instead. This is what I've been saying all through," he said.
Thackeray also took on the Shiv Sena, saying that the party lacked self-confidence. "If they (the BJP) are not giving you (Shiv Sena) enough value in the government, then quit. You want to lay your eggs, eat the chicken by sitting in power, and then show people that you are also opposing them." He made no mention of his cousin and Shiv Sena chief Uddhav Thackeray.
Close