Ghaziabad set for an 'eco-friendly' Dussehra
Updated on Sep 29, 2017 09:53 PM IST
This time, some of the fireworks manufacturers, who customarily prepared the effigies, have been hit hard by the Supreme Court's ban last year. They are using more eco-friendly materials and fewer crackers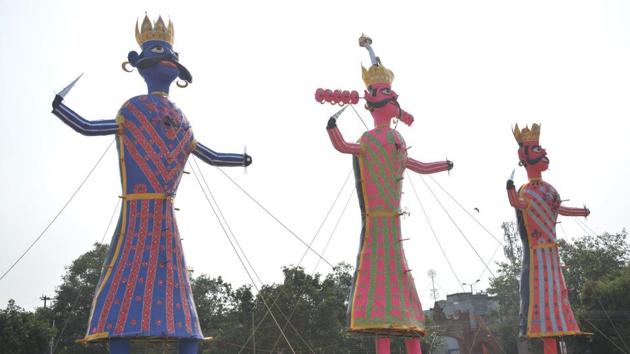 Unlike the previous years, the effigies of Ravana, Kumbhakaran and Meghnaad, will be more eco-friendly this time around and will be stocked with fewer piles of crackers and fireworks.
Almost at every Ramlila across the city, Muslim artisans from western Uttar Pradesh districts are making effigies to be set afire on the festival of Dussehra.
This time, some of the fireworks manufacturers, who customarily prepared the effigies, have been hit hard by the Supreme Court's ban last year. Asif Ali, one of the fireworks manufacturers from Farrukhnagar – a major fireworks manufacturing hub in Ghaziabad – is engaged in preparing the three effigies at Ghanta Ghar Ramlila.
"Since the old business has shut, we are just concentrating on returns from preparing the effigies. This year, the effigies will be more eco-friendly. We will be using fewer crackers and fireworks as these have to be procured from outside the NCR. We will be laying an emphasis on fitting cold fireworks, which emit less smoke and cause less pollution," Asif said.
This time, there will also be more use of artificial lighting to brighten the outlook and attire of the three effigies that are being erected across Ramlila grounds in the city.
"Our effigies of Ravana, Kumbhakaran and Meghnad are 70-foot, 65-foot and 60-foot high, respectively. Since they are fixed on poles having a constant length, we have not been able to increase their length but increased the width from 11 feet to 12 feet," said Mohammad Adil, a craftsman from Gulaothi who is working on preparing the effigies that will be burnt at the Kavi Nagar Ramlila Ground.
"This will give us more room for colouring the effigies and we will also be studding them with LED lights on the faces, crowns and also the eyes. The crackers, this time, will be fewer but the effigies will look attractive," he said.
The Supreme Court recently lifted its ban on permanent licences for sale and retail of firecrackers within the National Capital Region (NCR) "for the time being". The court, however, stated that lifting the suspension on permanent licences might require a review after Diwali, depending on the ambient air quality after the festival.
Mohammad Anees, a craftsman from Gajraula, said he is also using fewer fireworks this time as he is preparing effigies for the Ramlila grounds in Raj Nagar, Sector 23, Sanjay Nagar and Ramlilas.
"The court has relaxed the previous order a bit, but we will still try to ensure less pollution. We used to fit our own handmade fireworks and crackers to effigies but this time we had to purchase them. So the bombs and crackers will be fewer compared to previous years," he said.