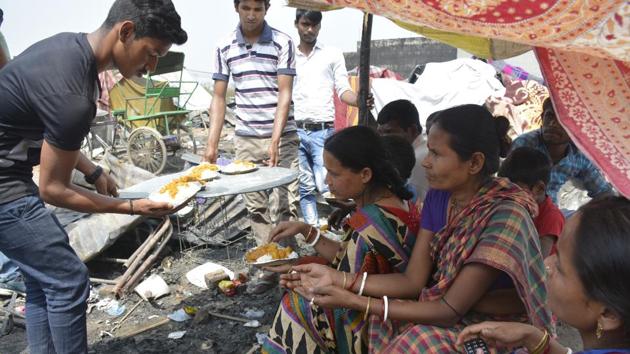 Kanawani fire: From the good Samaritans of Indirapuram to the district administration, help pours in from all quarters
75 tenements were reduced to rubble in Kanawani village on Tuesday due to a blaze triggered by a suspected leak in a cooking gas cylinder. Most of the affected are daily wage earners from Bihar and West Bengal.
UPDATED ON APR 04, 2018 09:16 PM IST
The fire tragedy at Kanawani on Tuesday robbed 75 families of every single household item—clothes, utensils, appliances, even cash. Nothing survived the inferno that was triggered by a suspected leak in a cooking gas cylinder. But the community-driven effort from neighbouring localities give hope of a better future to the affected men, women and children, most of whom are migrant daily wage earners from Bihar and West Bengal.
"We never thought we would get so much support. It will take a long time for us to rebuild our lives, but people came to help us within hours," said Vishnu, a native of West Champaran who ran a small tailoring shop in Kanawani near his tenement. Within two hours on Tuesday, Vishnu, had lost his home and the means to rebuild it.
After the tragedy struck Kanawani, dozens of residents from the towering high-rises in Indirapuram, the Ghaziabad police, and the municipal corporation came forward to help.
SK Jain, a retired officer from IEL, Kanpur, arrived from the Pinnacle Tower nearby with a group of 10 residents and set up a food stall by a burnt tree. "We prepared food for nearly 1,000 people and will give them more help in coming time. We are collecting materials and money from residents in our high-rise," Jain said.
Members of the federation of association of apartment owners also distributed food packets, water and clothes.
"From our federation fund, we are trying to get at least 100 durries (floor spreads) from Chandni Chowk. These can be used by families to sleep on as they're sleeping on the floor, which is basically mud," Alok Kumar, president of the federation, said, adding that they are also collecting items of daily need and getting more aid, in cash and in kind, from residents.
The rising heat is also making it difficult for the destitute families who are completely exposed to the elements, and thus more vulnerable to diseases.
"We used to pay ₹1,500 to ₹2,500 as rent for our tenements here. Now, the land owner is refusing to set up shelters again," said Saraswati, who is from Betia in Bihar.
Mamta Devi, who rescued her daughters despite being pregnant, pitched four sticks around the space where her house once was and spread a half-burnt saree to create shelter from the sun.
"Most of the families are trying to cover them from heat this way. I lost my house and also my grocery shop. Luckily my family was saved. If the incident had happened during night, there would have been many casualties," said Subrata Saha, a resident and native of Farukkhabad.
Dr Renu Verma, a medical practitioner and social activist from Noida, is among the few who are providing medical aid. Dr Verma, who arrived with a group of volunteers, said, "We have come here to assess the needs of the people. We will be sending a team of doctors for medical checkups and to provide medicines. The families have pregnant women. The victims will also need psychological therapy."
An ambulance from the nearby Shanti Gopal Hospital was also stationed at the spot as doctors distributed medicines.
"Some people who suffered minor burn injuries are being treated. Those who have other complications will be treated for free at the hospital. We are trying to arrange for 100 tarpaulin sheets which will give families relief from the scorching heat," said Arun Agarwal, owner of the hospital.
Local residents of Kanawani village, too, have come forward to help the affected in their hour of need.
Class 10 students Sumit and Rohit skipped school on Tuesday to distribute cooked food and water packets.
"We have organised a 'bhandara' (community kitchen) and are distributing potatoes, pooris and rice to the affected families. Villagers have pooled in money and we will continue to give them food for a few more days," said Bijender Singh, a resident of Kanawani.
Bijender's sister Anita Verma also arrived from Niti Khand with her family and children to help.
"I specially brought my teenage children to understand what is hardship and that children from well-off families should know their responsibility towards the poor and teach them the spirit of charity," she said.
Pradeep Kumar, who lead a group of volunteers from Sewa Bhati, an NGO, cleaned the area. "Garbage needs to be cleared. The administration should also come out and help in rehabilitation of the affected people," he said.
While the Ghaziabad police pitched in with nearly 200 food packets on Tuesday, municipal commissioner CP Singh sent three teams to clean the area, and address the hygienic issues that may crop up. Kanawani does not fall under the jurisdiction of the Ghaziabad municipal corporation.
Stating that the district administration will do everything to help these families, district magistrate Ritu Maheshwari said, "As an immediate option, they can be shifted to nearby shelter homes. We will discuss options through which shelter can be provided to the affected families. The administration will continue to help them on humanitarian basis," Maheshwari said.
Close