Latest from chandni chowk
Plans are also afoot to reduce the number of rickshaws plying on the stretch, so to decongest the area, and introduce an online fining system using CCTV cameras to penalise vehicles found entering the stretch between 9am and 9pm, an official aware of the developments has said.

Businesses in the area claim they are exempt from such charges since they fall in the special zone. North MCD, however, insists that only shops registered before 1962 are exempt from conversion charges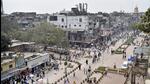 By
Sanjeev K Jha
, Hindustan Times, New Delhi
The bench directed the Delhi Police and North civic body to "personally supervise" the removal of squatters from the market.

The court's remarks came while hearing an application filed in the pending petition by NGO, Manushi Sangathan, on the issue of redevelopment of Chandni Chowk and creation of lanes for non-motorised vehicles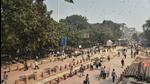 A bench of justices Vipin Sanghi and Jasmeet Singh observed that barring the Lutyen's zone there is no other place in the city that is free of hawkers.