Greater Noida twin murder: Teen confesses to killing mother and sister, was upset after being scolded
Updated on Dec 10, 2017 10:44 AM IST
The boy was often scolded by his parents and had a fierce rivalry with his sister, police quoted him as saying.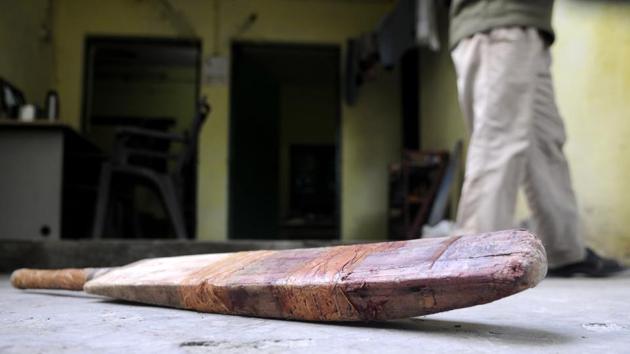 A 16-year-old teenager hooked to a violent video game killed his mother and sister at their Greater Noida apartment with a cricket bat and then disfigured their faces with a pair of scissors and a pizza cutter, police said on Saturday.
The juvenile – who cannot be named for legal reasons – was detained from Varanasi on Friday and has confessed to murdering his mother (42) and sister (11) on December 4 at their 14th floor apartment in Greater Noida West, said Love Kumar, the Gautam Budh Nagar senior superintendent of police.
The accused was produced in a juvenile court in Noida on Saturday and later sent to an observation home.
The boy was often scolded by his parents over his low grades in school and had a fierce rivalry with his sister, a class six student, who was outstanding in her studies, police quoted him as saying.
As his parents allegedly used to cite her as an example to belittle him, the class 10 student thought his parents did not love him, police added.
The twin murders are among a growing number of crimes committed by minors across India, which experts attribute to societal changes.
"No single reason can explain the teenager's actions. It's rather a reflection of our society that encourages aggression," said Samir Parikh, director of the department of mental health and behavioural sciences at Fortis Healthcare.
"Just take a look at all the trolling, sledging during international games that is praised, the kind of discourse and television debates, our reality television and even our games... a child is surrounded by violence everywhere," he added.
Data for 2016 released by the National Crime Records Bureau shows a rise in juvenile crimes over the previous year, with Uttar Pradesh placed 8th among all states in the number of minors arrested. Among metropolitan centres, Delhi stood at number one among 19 cities, the NCRB data show. Greater Noida West falls under the National Capital Region (NCR).
Love Kumar said the boy took Rs 2 lakh in cash kept at his parent's bedroom locker and fled the city, travelling aimlessly from one place to another.
"As soon as he got down from one train, he would get confused on what to do next. Hence he kept boarding whichever train was in front of him," Kumar said.
On the night of the incident, his father – a businessman – was in Surat on work and his grandparents were in Dehradun to attend a wedding.
The immediate trigger for the murders was his mother scolding the boy on the afternoon of December 4.
"He said his mother scolded him... for using the sofa to study. His mother had asked him to move to the dining table, but he refused," the officer said.
When he refused to move, she allegedly beat him up. Police said the boy told them that this was not the first time he was physically punished by his mother.
Love Kumar said the boy hadn't thought about killing his sister but was scared as she saw him killing their mother. So he killed her with a blow to her head with the bat.
"After ensuring both were dead, the boy changed his bloodstained clothes, locked the house from outside and fled," the police officer said.
He also took his mother's mobile phone as his handset confiscated in September by his father. His father had earlier told Hindustan Times that he was into a game named 'High School Gangster Escape'. The game comes with a disclaimer of containing violence.
Love Kumar, however, said there was no evidence that the boy was pushed to the crime by his addiction.
According to police, he kept travelling continuously for five days without sleep. Quoting the boy, police said he lost his backpack with the money somewhere between Ludhiana and Chandigarh, .
He was mostly fed by fellow passengers and on a few occasions, he bought food with some of the cash he had kept in his pockets.
While travelling to Varanasi, he got down at Mughalsarai. By that time, he was starting to feel lonely.
He took a phone from a passer-by and called his father, cried and hung up, police said adding that he then walked to Varanasi, a distance of around 20 km.
"The boy told us he was confused with all that had happened. He was missing his father...," the police officer said.
After his father shared the phone number with police, they traced its location to Varanasi and nabbed the boy from one of the ghats along the Ganga.