Specially abled Ghaziabad girl makes it to top design institutes
Updated on Jul 11, 2016 03:25 PM IST
Despite being dropped from school due to her disability, the 17-year-old has followed her passion for sketching.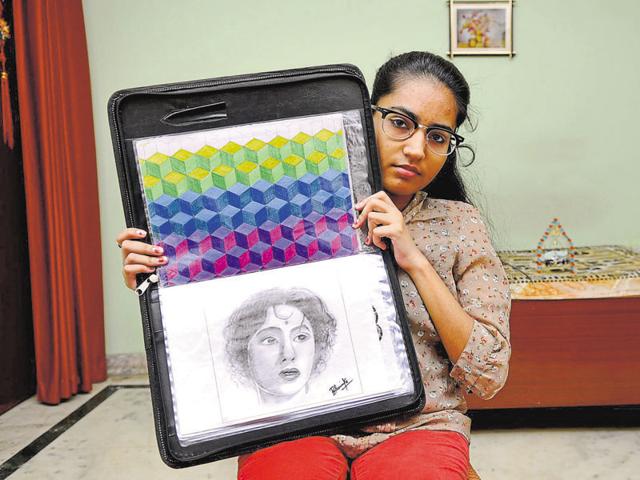 With a colour pen in her hand, Bhumika Raghav, 17, sketches a portrait of her favourite actor Emma Watson. Her hands deftly fly across the canvas, as if compensating for the limbs that don't work. Bhumika suffers from spinal muscle atrophy (SMA), a locomotive disorder, which prevents her from walking without support.
Specially abled Bhumika had always wanted to pursue her passion for sketching and achieve success in the field. Even when 'unsympathetic' school authorities refused her admission to class 11 because of her disability, she remained undeterred. Fighting against all odds, Bhumika continued her studies at home.
"I had studied since class 1 at St Mary's Christian School near my house and all classes were on the ground floor. But when I got promoted to class 11, the classes were being held on the second floor, which posed a problem for me as I had trouble climbing the stairs," says Bhumika, resident of Shalimar Garden -2.
Bhumika's mother said they tried to convince the school authorities to shift the classes downstairs, but they did not budge. Ultimately, Bhumika dropped out of school and continued her studies at home.
School authorities, though, have a different take.
"Bhumika's mother voluntarily asked us to give her daughter a transfer certificate and we gave it. We never forced them to withdraw the admission," said St John Vinay, principal of St Mary's Christian School, Shalimar Garden, Ghaziabad.
Bhumika's mother said her daughter never lost hope.
"She has a fighting spirit. She started working very hard in order to show everyone that she does not need a proper school to achieve success. She passed her class 12 with 70% marks in the commerce stream," said Bhawna Raghav, Bhumika's mother.
Recalling her daughter's first steps, Bhawna says she was moved to tears when she learnt about her daughter's condition in 2000.
"We found out about her condition when Bhumika was 2 years old and could not walk. The doctors told us that the condition is genetic and there is no treatment or surgery that could solve the problem. At first, we felt helpless. Then, we gathered ourselves together and, today, we cannot be prouder of what our daughter has achieved," says Bhawna.
Read more| Differently abled Varanasi girl scores 91%, says inspired by Modi
With a clear career in her mind, Bhumika took coaching classes to refine her sketching skills and applied for admission to the top design institutes of India. She cleared entrances of National Institute of Design (NID) in Vijayawada, Undergraduate Common Entrance Examination (UCEED) for Design conducted by Indian Institute of Technology (IIT) Bombay and National Institute of Fashion Technology (NIFT), Delhi.
"After clearing all three entrances, Bhumika had the option of going to NID Vijayawada, IIT Bombay, Guwahati and Jabalpur and NIFT in Delhi. We chose NIFT in Hauz Khas, Delhi, since we wanted to keep her close to home because of her condition," said Bhawna, who works at a private school.
Bhumika, however, chose to stay at the girls' hostel as she is bent on becoming independent and self-sufficient.
"We have taken a huge risk by allowing our daughter to stay in the hostel. We still don't know if she will be able to live alone. She stays with us every weekend and we hope that she adjusts well in the new environment," said Ajay Raghav, Bhumika's engineer father.
Bhumika has opted for fashion communication at NIFT as she thinks it will be helpful for her because it involves minimal use of tools.
"A medical board at the college cleared me for fashion communication though that was my choice since the beginning. Here, I will be taught visual merchandising, exhibition and display design, graphic design, fashion journalism, styling and photography. I believe I have good job opportunities in this field and am excited to start college from July 29," Bhumika said.