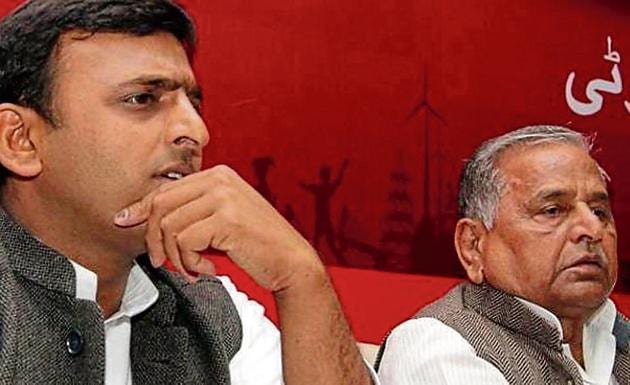 Will stand with Akhilesh Yadav, say younger party workers in NCR cities
Young workers are rallying behind Akhilesh while old party members are openly supporting his father Mulayam, who formed the party in 1992.
PUBLISHED ON DEC 30, 2016 11:24 PM IST
Samajwadi party Chief Mulayam Singh Yadav's move of expelling his son and Uttar Pradesh Chief Minister Akhilesh Yadav from the party has created a rift among workers in Noida too. Young workers are rallying behind Akhilesh while old party members are openly supporting his father Mulayam, who formed the party in 1992.
Samajwadi Party's Rajy Sabha MP, Surendra Nagar termed this as "unfortunate and a wrong decision."
"Of the 34 national executive members of our party, 29 are openly supporting Akhilesh Yadav. He has become a symbol of development and good governance. He is expelled because he is against mafia, goondas and criminals. People want good governance therefore all are with the CM. We are standing with Akhilesh like a rock no matter what he does," said Nagar, a former Member of Parliament (Lok Sabha) from Gautam Budh Nagar.
As many supporters of Akhilesh are camping in Lucknow, those in Noida are also planning to leave as Akhilesh has called for a meeting on January 1.
"Party chief Mulayam Singh Yadav should have consulted Akhilesh before releasing the list of candidates for the upcoming assembly poll. Mulayam Singh and Shivpal Yadav have made a mistake, not Akhilesh. Therefore, Mulayam Singh should expel Shivpal from the party as he is weakening the party. Either Akhilesh forms a new party or stays in the SP, we are with him," said Anil Yadav, former president of Noida SP unit.
Many SP workers refused to offer comment as they are saddened with the crisis that the party is facing now.
"I am sad because the crisis is weakening our party. I am with my party, Netaji (Mulayam Singh) and Shivpal ji. I hope Netaji will resolve the crisis and our party will stay together," said Manoj Chauhan, a SP leader of Gautam Budh Nagar.
Even in Ghaziabad, the developments in Lucknow have dampened the spirits of local leaders.
"All our workers worked hard and were assured that SP will yet again form the government. The recent developments are surely not welcome and will not benefit the party as a whole. Right now, we cannot comment further and closely watching the development," said Sajid Hussain, SP district president, Ghaziabad.
On the other hand, the Bharatiya Janata Party (BJP) members are also closely monitoring the developments and feel encouraged seeing the divisive politics played out in public by SP leaders.
"The SP chief knows that BJP is going to form a government this time. The clash started early in SP and is now seen in the open. It is just a clash of who will have an upper hand in distribution of tickets and a power tussle for minting money. All these developments will further strengthen the BJP which is not involved in family system (like the Yadav family) and adopts a democratic approach," said Ajay Sharma, BJP's city president, Ghaziabad.
Friday evening, Mulayam Singh Yadav dropped a bombshell expelling Akhilesh from the party just ahead of crucial elections in UP. He has also expelled his cousin and senior party leader Ram Gopal Yadav for the second time in past couple of months.
Both Mulayam, supported by his brother Shivpal Singh Yadav, and son Akhilesh, UP CM, have been at loggerheads for the past couple of days over the inclusion and exclusion of the names of the candidates of their respective choices. Both have released their different lists of candidates.
Close