Adityanath's meat ban is more caste-based than just a devious political plan
Apr 07, 2017 06:57 PM IST
Increasing celebration of vegetarian-purity and purification of the impure castes through vegetarianism helps create a broader Hindu identity with new etiquettes of politeness towards castes considered impure
The recent crackdown on meat shops in Uttar Pradesh offers a peek into the ethical divide that exists between vegetarians and non-vegetarians in India. The increase in meat consumption, intensive animal farming and growing cruelty against animals has given rise to compassion movements across the world. It should be a matter of pride therefore that India is among the most-vegetarian countries in the world.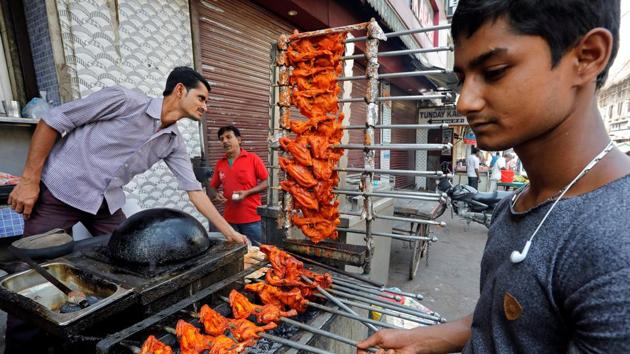 But how does meat become a source of contention, violence and even governmental repression in India? Is our vegetarianism based on compassion for animals?
Indian vegetarianism is not veganism – it does not necessarily involve care for animals, at best it is deification of some animals. Non-vegetarian food (and non-vegetarian people) generate disgust among vegetarians in India, a peculiar feeling that calls for distance --- social and physical -- from non-vegetarian food and non-vegetarian people.
Why do vegetarians in India prefer social distance from non-vegetarians? A look at caste-wise food preferences could provide some insights. In caste society, for achieving purity of body and spirit, it is necessary to be a vegetarian and religious simultaneously – something that is best embodied by a Brahmin.
Not surprisingly, the percentage of non-vegetarians among Scheduled Castes and Tribes is much higher than other castes. Among the non-SC/STs, the highest incidence of vegetarianism is found among Brahmins, almost over 50%. The higher the caste more the possibility of them being pure vegetarians. The value of 'purity' attached to our vegetarianism is informed by the ideology of caste in India.
In present times, higher status attached to purity is not rigidly limited to Brahmins. It is through change in dietary and ritual practices that mobility of castes (considered lower) into the higher and pure culture becomes possible.
Increasing celebration of vegetarian purity and purification of the impure castes through vegetarianism helps create a broader Hindu identity with new etiquettes of politeness towards castes considered impure.
Such vegetarianism based on caste purity has also produced a group of reluctant vegetarians who either purify themselves by not eating meat on certain days and occasions, or eat certain kinds of meat while deploring beef.
One critical aspect of urbanisation in India is the role food preference plays in constructing urban neighbuorhoods. Compared to rural areas, we notice lower non-vegetarianism in urban spaces. In schools it is not uncommon for parents of non-vegetarian children to be advised to pack appropriate (vegetarian) food for children. Even in institutes of repute we see non-vegetarian food kept at good distance from vegetarian food, worse sitting areas may be marked separately too. This tells us about a specific form of modernity where caste-purity informs vegetarianism and the burden of diet-purity is more on the women.
Generally, the BJP is seen as an upper caste party obsessed with vegetarianism and cow protection. On the other hand, non-BJP parties have equally promoted the hegemony of vegetarianism. In October 2016, the Samajwadi Party government backed spiritual leader Ramraju Mahanti's vegetarian campaign that termed non-vegetarians as demons. While most SCs, STs and OBCs are non-vegetarians, state governments find it difficult to even provide eggs in mid-day meal schemes for deprived children.
Given that the majority of Hindus are non-vegetarian, how and why is the democratic State so concerned about non-vegetarian diets, even eggs?
Broadly, present day vegetarianism in India constitutes a form of moral power of the minority within Hindus, such power is forced on the non-vegetarian majority – with their consent.
The newer socio-cultural and spiritual practices that privilege vegetarian-purity are a sign of progress into a modern caste society where the power of vegetarianism and associated purity travels across social groups and institutions, without dissent. Like caste-humans, not all animals carry equal sympathy and cow (indigenous) takes the highest sacral form.
How fragile must be the morals of the vegetarians if they feel threatened by very presence of eggs in schools? Gandhi improvised his vegetarianism through inflicting violence and control on himself. Present day pure subjects and their vegetarianism however thrives on violence; both on self and others. Several governments both past and present have been party to this process, promoting the hegemony of misguided vegetarianism.
Suryakant Waghmore is a sociologist based at IIT-Bombay
The views expressed are personal