How to stop terror attacks in Kashmir
Updated on Jun 06, 2022 08:22 PM IST
Apart from the regular police operations, random barrier-checking and preventing infiltration, develop a strategy of basic policing; improve ground and human intelligence; and ensure de-radicalisation and counter-radicalisation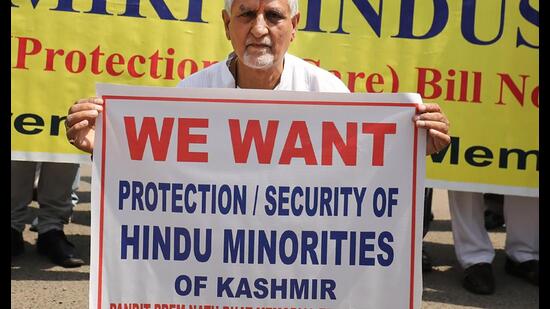 Last week, terrorists killed Vijay Kumar and Dilkush Kumar, the 12th and 13th civilians to be shot dead since March, triggering another round of exits of migrant Hindu and Kashmiri Pandit workers and their families from the Valley. These killings prove two things: One, Pakistan is returning to the 1990s strategy of targeted killings, and second, the Pakistani deep State seems to have re-established its control over the government after differences with the Imran Khan regime. Hence, it is now implementing a strategy to disrupt the peace that the Narendra Modi government has so painstakingly sought to establish after the revocation of Article 370 in August 2019.
By supporting terror activities, Pakistan is challenging the efforts of the Indian government to establish peace, bring about development and ensure grassroots democracy in Kashmir. After suffering a significant loss of cadre and weapons in encounters with security forces in the past two years, Pakistani terrorist handlers have engineered a shift to hybrid warfare. Instead of attacking only security forces, they have primed terrorist modules to expand their targets to include Kashmiri Pandits and other Indians from the mainland. This perhaps is also in response to the flourishing tourist season in the Valley. This course correction by Pakistan is aimed at derailing the far-sighted development schemes planned by Prime Minister Modi and his efforts to invite domestic and foreign investment to the state, all of which would destroy Pakistan's dreams of acquiring Kashmir.
Apart from Pakistan's new strategy, there is another area of concern: The brazenness with which terrorists are succeeding in their attacks, at a place and time of their choosing. These episodes indicate a complete lack of fear of being caught pre-emptively, proactively or retroactively during naka (barrier)-checking by the security forces. Given my years of experience in Jammu and Kashmir (J&K) , I feel that there needs to be a strategy reorientation around basic policing and grassroots intelligence.
The J&K Police is a proud force, which has a history of containing and decisively defeating terrorism. Apart from the regular, ongoing police-led operations of seek and kill, they must develop a long-term strategy of basic policing (textbook policing). The first rule is community policing (Police Community Partnership Groups). It can prove to be an excellent forum for the exchange of views, which can at times get heated, but that too is an essential part of democracy, allowing the release of pressure and going a long way in building trust. Again, the district superintendent of police and station house officers are best suited to play this role, which has served all forces well in times of stress.
There is also a need to fine-tune the coordination of ground intelligence that is available with police stations, state CID, and central intelligence. This would require speeding up intel-based operations, targeted at eliminating top terrorists and tanzeems (outfits), exposing their safe houses, targeting overground workers, disturbing their arms supply routes, and disrupting their communication channels. In addition, cutting-edge TechInt platforms should be introduced in the districts to identify and eliminate the perpetrators of this new wave of violence.
Social media continues to be used by Pakistan to spread its negative narrative; this needs to be curbed decisively. However, the real need of the hour is human intelligence, which can be acquired only if the local police can build trust among the people. Utmost care must be taken by the J&K government to protect pro-India elements in the Valley. There are some instances of such elements being targeted and these are of much concern. A grand exercise is required to identify vulnerable targets and possibly move them to safer locations and strengthen defences at such locations.
Much needs to be done on de-radicalisation and counter-radicalisation, given that several Jamaat madrasas continue to function. The involvement of civil society and all government departments, including institutions of higher education, in ensuring that there is no increase in terrorist ranks, is essential. This task should not be relegated to the police and security forces alone, but implemented through a whole-of-government approach. Over the years, several terrorist sympathisers have infiltrated various government departments. They need to be identified, kept under surveillance and checked on regularly. The State needs to come down heavily on those who provide terrorists information, support structures and safe harbour.
Apart from focusing on the domestic population, the Indian Army must be alert to prevent infiltration and infusion of weapons, which may arise. If the police and Central Reserve Police Force have to handle internal security, the Army has to perform its role in preventing infiltration with a heavy hand. Care must be taken that all measures to prevent such targeted lone wolf attacks should not lead to the security forces shifting their focus from preventing mass killing attacks, which Pakistani planners are bound to consider. The use of sudden, short duration nakas and only random checking, as against universal search-and-frisk operations, has yielded promising results. The J&K Police have always played a proactive and positive role, and I am sure this will not be an occasion where the force will disappoint.
SP Vaid is a former director-general, J&K Police
The views expressed are personal
This Independence Day, get Flat 50% Off on Annual Subscription Plans
Enjoy Unlimited Digital Access with HT Premium
Close Story
Personalise your news feed. Follow trending topics