It's time India changed the foreign policy calculus with Pakistan and China
Updated on Mar 23, 2017 03:36 PM IST
Pakistan may have named Hafiz Saeed under the Anti-Terrorism Act, but it is increasingly becoming a Chinese pawn in is greater game against India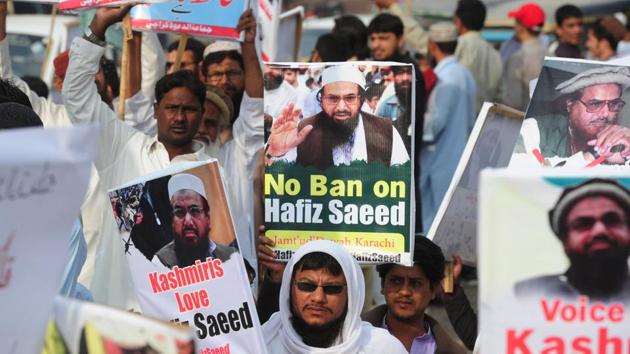 If Donald Trump's election and his robust views on Islamic radicalism have raised the possibility of tougher US policy on Pakistan's terrorist affiliations, China's increasing obduracy in shielding Pakistan from Indian and international pressure on terrorism is a thwarting reality.
Pakistan has been adept at playing the dual role of promoting terror as well as combating it. Its links with terrorism are both strategic and tactical. Strategically, it will not abandon its deeply-rooted jihadi links that keep India under pressure. Tactically it can take steps to defuse pressure to end terrorism from its soil. Its most recent move to curb Jamaat-ud-Dawa chief Hafiz Saeed's activities by naming him under the Anti-Terrorism Act (ATA) is one such ploy. Pakistan has constantly argued that there is no evidence to link Hafiz Saeed with terrorism. It has treated his designation by the UN as an international terrorist and the $ 10 million US bounty on his head with contempt by giving him freedom to stage massive rallies calling for jihad against India and the West. He has been placed under house arrest at least four times, and as the government will not produce any evidence against him (how can it if it officially says there is no evidence against him?) he gets released by the courts. This charade will, therefore, go on.
We remain in a bind on how to deal with our Pakistan terror problem. This is not because of any alleged shortfalls in our Pakistan policy. Our peace lobbies assert that there is no alternative to a dialogue and that we can choose our friends but not neighbours. But these are platitudes and not political strategies for achieving foreign policy goals. At various times we have been clutching at straws to justify reaching out to Pakistan. Its mounting internal problems, including domestic terrorism, the difficult economic situation and the argument that we should not turn our back on liberal elements in Pakistan have led us to pragmatically explore the possibility of improving ties. Pakistan, however, remains fixated on Kashmir. It continues to nurture jihadi groups targeting India. It is expanding its nuclear capacity and frequently threatens to use nuclear weapons against us. It abuses the provisions of the Indus Waters Treaty (IWT) to stall permissible Indian projects. It will not normalise economic ties with India. It has remained fundamentally intransigent on all issues and uses the dialogue mechanism only to seek one-sided concessions, backed by the use of terror. At the international level, the exposure of Pakistan's terrorist affiliations wins us understanding of the terrorism challenge we face today as well as counter-terrorism cooperation, but not on the merits of the Kashmir issue.
Read: China blocks US move to get Masood Azhar banned by UN
The Modi government has to fashion its Pakistan policy based on these hard realities. Broadening options in dealing with Pakistan is the new strategy. Modi himself has fired some powerful shots in Islamabad's direction. By mentioning Baluchistan in his 2016 Independence Day speech Modi put Pakistan on notice about its own internal vulnerabilities. The public disclosure about surgical strikes across the LoC after the Uri attack has removed the constraint imposed on India's forces, even during the Kargil war, not to cross the LoC. Now they can retaliate at a time and place of their choosing undeterred by Pakistan's nuclear threats. Modi has unsheathed the most powerful, asymmetric instrument in India's hands to pressure Pakistan on terrorism: the Indus Waters Treaty (IWT). He has announced India's intention to exercise its full rights under the Treaty. The option to suspend the Treaty if Pakistan's terrorist misconduct persists remains an option. We have dealt firmly with the World Bank and have rejected US and UK concerns on the functioning of the IWT.
Read: Pressure from US, China may have led to LeT founder Hafiz Saeed's house arrest
China opposed last month a joint move in the UN by US, UK and France to designate Masood Azhar an international terrorist. That it is undeterred by the fall-out of its decision on relations with India is underscored by its announcement in advance of our foreign secretary's forthcoming visit to China that its position on Masood Azhar and India's NSG membership remains unchanged. Both these issues do not constitute China's "core" interests and yet China is unyielding.
Read: India-China talks next week, Beijing says no 'solid evidence' against Azhar
Even if India were to obtain satisfaction on both counts, it does not either impair Pakistan's capacity to carry out its proxy war against India or open doors to international civilian nuclear cooperation with India hitherto shut. China's motives seem to be a mixture of its growing hubris, its determination to use Pakistan to box India in, its way of signalling its primacy in Asia and to remind India on the limits of what the US can deliver to it in international forums without China's consent. It might be advisable, therefore, not to pander to China's growing sense of self-importance by lobbying with it directly on Masood Azhar and the NSG membership and, instead use the space provided to more openly oppose the China-Pakistan Economic Corridor, assert the illegality of China's presence in Pakistan Occupied J&K and generally increase pressure on Pakistan on several fronts, besides working to isolate China on both these issues more starkly in the relevant forums. The early signals sent by Prime Minister Modi on Baluchistan, surgical strikes and the IWT therefore need stronger relaying to change the calculus of all parties. Equally importantly, our internal consensus on pursuing this course has to be strengthened.
Kanwal Sibal is a former foreign secretary.
The views expressed are personal.
Personalise your news feed. Follow trending topics