Pak-sponsored terrorists with Chinese weapons making counter-insurgency in Kashmir bloodier
Oct 05, 2017 05:28 PM IST
The use of armour-piercing ammunition by terrorists has dramatically escalated the counter-insurgency battle in Kashmir. This has Chinese origins, which were imported by the Pakistan army
During US defence secretary Gen (Retd) James Mattis' visit to India last September 26, the bilateral discussion veered around to terrorism emanating from Afghanistan-Pakistan-Iran region. One of Indian national security experts argued before Mattis that three fundamental ingredients were required for terrorism to flourish in a region. They were ready supply of radicalised cadre, weapons, explosives and ammunition, and funding.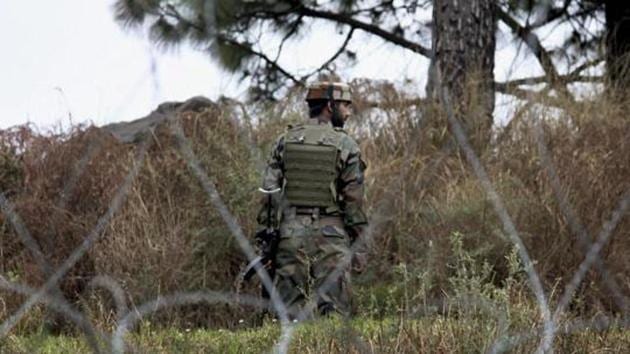 The Indian expert, as an afterthought, said there was a fourth ingredient as well that ensured terrorism is sustained virtually indefinitely. The fourth element was the State. He said if the State starts sponsoring terror then it becomes a never-ending game as it has an infinite capability to provide radicalised cadre, weapons and funds to target its enemies all over the world.
The purport of the expert's logic was not lost on Mattis as everyone knew that the finger were being pointed at Pakistan even though Iran has also exported terror against Sunni states and Israel. The Pakistani State alone houses 44 domestic and pan-Islamic organisations, which have routinely targeted Afghanistan and India in the name of jihad and Ummah.
The involvement of the Pakistani State, particularly the Inter-Services Intelligence (ISI) in targeting India, has been well documented but has now reached a new level where Chinese-manufactured war ordnance is being passed to jihadists to kill in Kashmir.
On August 26, eight Indian troopers, including four CRPF jawans, lost their lives in a Jaish-e-Mohammed (JeM) suicide attack at a police camp in Pulwama, south Kashmir. The attack on police lines was repelled and three JeM terrorists died in the attack — two AK-47s and one AK-56 assault rifles, eight to 10 Chinese grenades, ammunition and an underbarrel rocket launcher were recovered. Investigation revealed that one of the bullets had pierced the bulletproof shield of a CRPF trooper and fatally hit the defender. Recoveries and forensic examination of the ammunition seized has confirmed that the JeM terrorists had used armour-piercing ammunition to target the Indian troopers.
While it is still being ascertained whether the ammunition was being tipped with explosive or incendiary substance, which explodes after penetrating the target, the mere usage of army-grade top-end ammunition by jihadists reveals the deep linkage between the Pakistani State and the pan-Islamic terrorists.
While human rights activists in Kashmir are harping about the usage of pellet guns against over ground supporters of Pakistan-based groups, the usage armour-piercing ammunition as well as hard steel rounds has dramatically escalated the counter-insurgency battle in Kashmir. Investigations show that armour-piercing ammunition has Chinese origins, which were imported by the Pakistan army in the first place as war stores.
The fact is that the military tactical or strategic capability of both North Korea and Pakistan has Chinese origins with no cost to the mother state. And Pakistan gets full marks in all four elements of terrorism which were discussed with Mattis.
Just as US needs to put pressure on China to drill sense into a rogue State like North Korea, Washington now understands that Pakistan will never allow Afghanistan to stabilise as an independent state till jihadists and their handlers are in power.
Pakistan's foreign minister Khawaja Muhammad Asif's apology to global terrorist Hafiz Saeed on a TV channel for remarks made by the politician in his recent US visit shows the clout of jihadists in that nation. It is evident that Asif was so scared of Saeed that he ended up calling Prime Minister Narendra Modi a "terrorist" in a bid to appease the man who carries a $10 million bounty on his head.
The Tuesday attack on a BSF camp near the Srinagar airport by three JeM terrorists shows that Masood Azhar, emir of JeM, is now the favourite terror boy of the Pakistani establishment with Saeed's Lashkar-e-Taiba (LeT) put on the backburner due to US pressure. There is evidence now that both Azhar and Saeed used their cadre to safely house Al Qaeda fighters and shura in Pakistan during the post-9/11 Afghan war.
The blood of Indian security men is also on hands of Beijing which continues to block the efforts to designate Azhar a global terrorist by the United Nations for the past years despite global requests.
While the Trump administration has been making noises of putting Pakistan to stake for its terrorism record, India needs to ensure that Islamabad is made to pay for jihadi attacks through overt or covert means. The September 29, 2016 surgical strikes were a technology demonstrator of India's capabilities with the Pakistan war machine and jihadists caught unawares.
Even though the India-Pakistan backchannel remains open, New Delhi realises that there is little achieved as Rawalpindi GHQ has the current political dispensation by the scruff of its neck. Modi realises that the answer to Pakistan lies in widening the techno-military gap and not in verbally reminding Islamabad of past bilateral promises.
shishir.gupta@hindustantimes.com