Rouhani's visit reflects the many dimensions to India-Iran ties
Feb 21, 2018 02:31 PM IST
Hassan Rouhani's India visit has given the political impulse to the ties. Now the challenge will be to deliver on the promises made
Iranian President Hassan Rouhani's three-day visit to India from February 15 took place after a gap of 15 years — since President Mohammad Khatami's visit in 2003. Though President Mahmoud Ahmadinejad came in 2008, this was a transit visit. Prime Minister Manmohan Singh visited Tehran in August 2012, when he went to attend the NAM summit. Prime Minister Narendra Modi deepened Indian engagement and visited Tehran in 2016.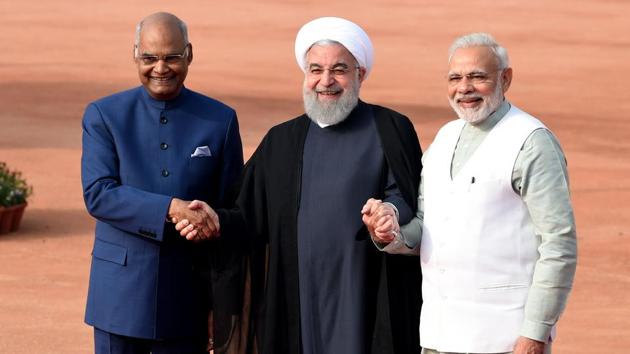 Rouhani is a member of the clergy and combines his spiritual background with statecraft. In an extraordinary public career spanning four decades, he has served as Iran's deputy defence minister and chief nuclear negotiator. He is no stranger to India; as secretary of Iran's National Security Council, he has held discussions with India's successive national security advisers, Brajesh Mishra and JN Dixit.
Rouhani's visit took place against the background of rising tensions in the region. The situation in Afghanistan is worsening. According to a UN report, more than 1,662 civilians were killed and 3,581 injured during the first half of 2017. In the latest incident, 95 civilians were killed and 158 injured in a terrorist attack claimed by the Taliban.
Iran's relations with Saudi Arabia remain tense. This comes at a time, when the Gulf Cooperation Council (GCC) has been weakened by the Saudi Arabia-led diplomatic boycott of Qatar. Russian intervention has stabilised Syrian President Bashar al-Asad's position. However, the fragility in the region was evident in the recent shooting down of Iranian drone by Israel, and downing of an Israeli Air Force jet by Syrian air defence. Islamic State has lost territory in both Iraq and Syria, though it continues to inspire terrorists in different parts of the world. The war in Yemen continues.
India has reinforced its historical ties with countries on both sides of the Gulf. Modi had visited Saudi Arabia in 2016 and in the second week of this month visited Palestine, the United Arab Emirates and Oman. The crown prince of the UAE, Mohammad bin Zayed Al Nahyan was the chief guest at the Republic Day Parade in 2017.
At the end of Rouhani's visit India and Iran issued a joint statement, which highlighted the nine agreements signed, the most significant being the lease contract for the interim period for Chabahar port, before the 10-year contract kicks in between Iran's Port & Maritime Organization and India Ports Global Limited.
India expressed its support for full and effective implementation of the JCPOA or the nuclear deal, which has come under pressure from the Donald Trump Administration. This is our principled stand; it is also the position of EU, Russia and China.
The joint statement strongly stressed the need for 'a strong, united, prosperous, pluralistic, democratic and independent Afghanistan, while supporting the National Unity Government in the country'. The development of the Chabahar port will improve Afghanistan's options by reducing dependence on the Karachi port for transit traffic. It will also improve the access India and Gulf countries will have to the markets in the land-locked countries in Central Asia..
There is also progress on the International North South Transit Corridor (INSTC), which begins in Bander Abbas, and runs north to the Caspian Sea shore of Iran. The infrastructure has already been developed. Early operationalisation of the INSTC, and interim lease contract for Chabahar, is critical to enhancing India's connectivity with Afghanistan and Central Asia.
Though the joint statement makes a reference to the Farzad B gas field, there is need to do more to bring the negotiations to a conclusion. France's oil major Total and the China National Petroleum Corporation have already signed agreement for South Pars, Phase 11. It is in Iran's interest to cement ties with one of its largest trading partner by giving it stake in the upstream sector.
There are areas of concern for India. Indian exports to Iran have steadily declined from $4.9 billion in 2013-14 to $2.379 billion in 2016-17, increasing the trade deficit. There is need to address the problem of declining Indian exports to Iran by putting in place a robust payment mechanism. If this could be done during sanctions, it should be easier now.
The agreement on Chahbahar port, and offer to develop Free Trade Zone and a railway line, has to be seen against the background of China's massive investment of $46 billion in Pakistan under the OBOR-CPEC initiative. This includes development of the Gwadar port, which is hardly 140 km from Chabahar. The Chinese are building a refinery in Chabahar Free Trade Zone, and it should not be forgotten that Iran has also joined China's OBOR.
Rouhani's visit has given political impulse to relations between India and Iran. However, the promises made have to be matched with delivery.
DP Srivastava, as ambassador to Iran negotiated the Chabahar MoU, is distinguished fellow, Vivekananda International Foundation
The views expressed are personal