Stop the encroachments on the Yamuna floodplain immediately
The increasing encroachment on the Yamuna floodplain is strangling the river and increasing the chance of devastating floods in the cities around it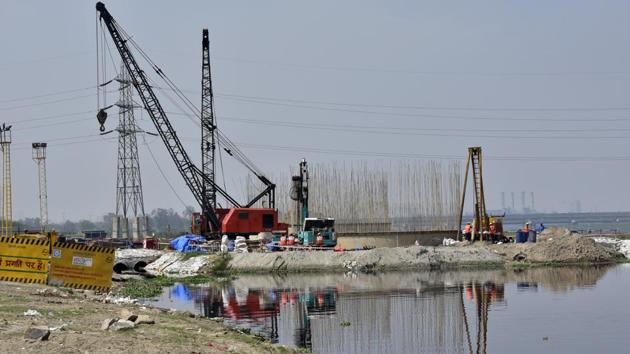 Updated on Jun 21, 2017 02:26 PM IST
Rivers need space to spread naturally and harmlessly when in flood. Europe has learnt it at high cost following the recent spate of devastating 500 year flood events. In India we have had devastating floods in Mumbai (2005), Uttarakhand (2013), Srinagar (2014) and Chennai (2015) to bring home to us the ill effects of invaded river flood plains.
Have any lessons been learnt? Not really, if what is happening in Delhi with Yamuna flood plains is any indication.
The River Yamuna travels some 52 km through the NCT of Delhi. It enters near village Palla and exits at village Jaitpur. Ranging from 800 m to 3 km in width, the Yamuna flood plain in Delhi – constituting the DDA's Zone O – is spread, on paper, over 9,700 ha. But a closer look tells a different story.
Slowly but steadily the flood plains have been gnawed at both by the people and State agencies. The result is unauthorised settlements mushrooming all over the flood plain; and state-created or sponsored structures like power utilities, metro complexes, bus depots, crematoria, games village and stadiums, samadhies and cultural cum temple complexes standing well within Zone O. One of the little appreciated but hugely harmful structures have been the pseudo bridges (bridge that span just the lean season flow with approach roads standing as cross embankment in the floodplains) that have straight jacketed the river and badly fragmented the flood plain. Fortunately due to a sensible direction in 2014 by the Yamuna Standing Committee, the river and the city might not suffer anymore of these pseudo bridges!
It is a strange irony that despite a well adjudicated and non adversarial judicial intervention made on 13 January 2015 by the NGT in form of "Maily se Nirmal Yamuna Restoration Project 2017" the city is still to witness any notable movement on the restoration of its flood plain. What use is an unimplemented plan, however sound?
There is little time to lose and the litmus test of the state's ability to reverse the brazen and insidious encroachment taking place well into the active flood plain shall be in the Jaitpur area where encroachers are making merry while State agencies remain undecided on who should bell the cat.
Interestingly it is not that nothing is happening on the river front. New plans and ideas for the river ranging from sensible (rejuvenation of the Najafgarh drain) to bizarre (water taxi plans and the idea of a landfill in the flood plain) keep emerging from time to time.
A recent NGT-directed hydrodynamic simulation of the Yamuna flood plain carried out by IIT Delhi presents a horrifying scenario. Looking at the past 25 year flood scenario and where the water will spread, it warns city managers against any lethargy in halting and reversing flood plain encroachments. Imagine what the city would witness if floods of the intensity of 100 or 500 year (not unlikely in times of rapid climate change) were to visit it?
Manoj Misra is Convener of the Yamuna Jiye Abhiyaan
Close Story
Personalise your news feed. Follow trending topics