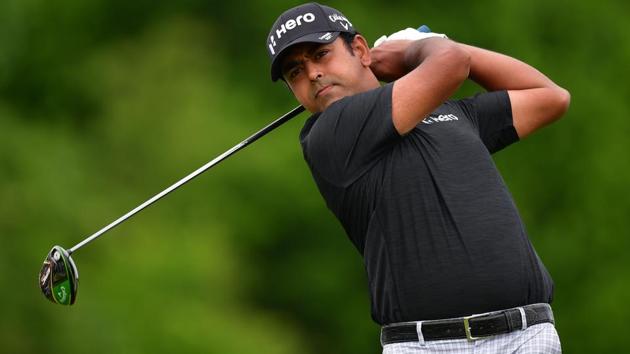 Anirban Lahiri's mantra: I am like a horse that has to be blinkered
Anirban Lahiri thinks back to his best finish so far at the PGA tour, a tied-second at the 2017 Memorial Tournament in Ohio, and how that came at the back of a difficult run.
UPDATED ON MAY 15, 2019 11:23 PM IST
At the Trinity Forest Golf Club greens in Dallas, Texas, the smell of defeat. Anirban Lahiri has failed to make the cut. Yet again. It's the seventh time in 15 PGA Tour events since the start of the year that Lahiri has missed the cut. He has slipped to 166 on the FedEx Cup list, the PGA Tour's order of merit.
If he does not stay within 125 by September-end, he does not get to keep his hard-earned tour card for the 2020 season. He is only the third Indian, after Jeev Milkha Singh and Arjun Atwal, to enjoy full rights on the PGA Tour, a distinction he earned back in 2016. He can't think about that. Right here, at this moment, staring down the barrel, Lahiri knows he has to 'suck it up'. "The last 11 months have been a low," says the 31-year-old, "but then you face your demons as a sportsman should. It's like being a racehorse that has to be blinkered."
Not making cut—a blunt, forlorn phrase. It needs a clear mind not to let it pull you down, to simplify it to the technicalities of the game, to continue to enjoy getting back on the greens, with those blinkers on. "This is a Tour where you can't get away by playing average golf. My level of golf is not where it should be," says Lahiri. "But every week is a standout, not result-wise, but in terms of learning: making or missing cut or simply playing all four days and finishing 67th on a difficult course."
He is messing up his putts, so Lahiri has started working with James Sieckmann, who calls himself the 'master of the modern short game'. With long-time coach Vijay Divecha—who Lahiri had first met as a 13-year-old, and who he describes as the 'family doctor who knows everything about me'—also on board, Lahiri knows that he is centred. If he has to emerge from his slump, it will be because he is surrounded by family and friends.
"It would not matter to them even if I stopped playing," he says.
The other thing that keeps him going—his fans.
Even before he graduated to the PGA Tour, Anirban Lahiri had a following among expatriates in the US. Once he moved there, he was surprised to find groups of people following his game as he made his way through a course—"in Phoenix, Arizona, I remember a group had come wearing T-shirts with 'curry powder' written on it."
Locals too recognise him now. "They associate more with my wins on the European Tour, so guess I need to play better here," says Anirban.
He thinks back to his best finish so far at the PGA tour, a tied-second at the 2017 Memorial Tournament in Ohio, and how that came at the back of a difficult run. "I needed the sunshine as in the lead up to that week, I missed cut thrice and had two 67s (finish)," Lahiri says.
Lahiri catapulted to the top echelons of golf back in 2015, when he won his first European Tour events, qualified and finished T49 at The Masters, and topped that by finishing T5 at the PGA Championship—the best finish ever by an Indian golfer at a Major. A heady year.
A move to the US to be a part of the PGA Tour was already in the plans before that T5 finish, yet when Lahiri and his wife Ipsa left their home in Bengaluru with 120kg of luggage between them, they had no idea where they would settle in the US. For four months, with their belongings stored with a professional trailer service, Lahiri and Ipsa criss-crossed the country—one played, the other house-hunted.
Finally, Palm Beach Gardens, a small city in Florida also called 'the golf capital of the world' became the obvious choice.
House-warming happened after The Masters—where Lahiri finished T42—the couple and coach Divecha driving seven hours from the Augusta National Golf Club to the place that would be home for 18 months. This was a period of changes, and of getting used to those changes.
"There were things like the type of grass, golf courses or events that suited me, the weather or something as basic as which side of town to stay to beat the traffic," says Anirban. "But I was certain that the PGA Tour was now my home."
The time spent on the PGA Tour has made him more disciplined. The demands of playing golf's toughest circuit make "24 hours seem like eight…there are schedules for everything."
There are only rare occasions when golf does not consume Lahiri—a short holiday last year with his wife, or just driving around Florida when parents from either side come calling.
The rest of his time, it's golf, golf, and more golf—he has spent 28 weeks a year on an average on the course for the last three seasons, not counting the time he has spent at practice ranges.
But it's not the pace or the physicality of it that is challenging, it's the act of putting those blinkers on, of moving away from the fear of losing. "I can't let such thoughts take over," Lahiri says. "They need to be rooted out. It is here that my training helps."
Close