British Grand Prix: Lewis Hamilton's loss shows cracking under pressure
Jul 10, 2018 10:42 AM IST
Mercedes' Lewis Hamilton, who recovered from an opening-lap collision with Ferrari's Kimi Raikkonen to finish second at the British Grand Prix, hasn't been at his best this season and needs to refocus in order to win his fifth F1 world title.
Lewis Hamilton is beginning to crack. We have had three successive races on three successive weekends, and the pressure is showing on the British champion. He started off the Formula One troika saying he wanted to score a hat-trick like his compatriot, footballer Harry Kane, but Hamilton leaves the races trailing Sebastian Vettel by eight points. Eight points, plus an unsporting accusation that stains Hamilton's own character.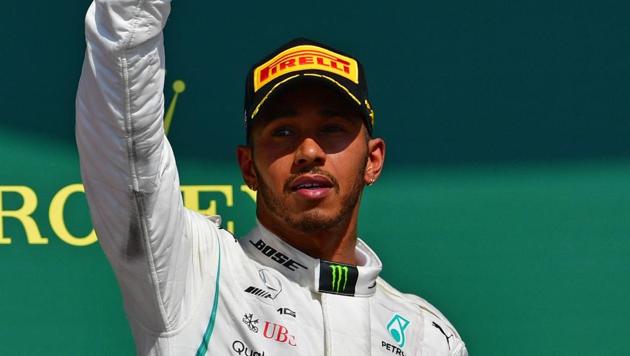 At the British Grand Prix, his home race and one where he has always shone, Hamilton was defeated twice before he even reached the first corner, passed by Vettel's Ferrari and by his own Mercedes teammate Valtteri Bottas. Kimi Räikkönen, ambitiously trying to dive down the inside of Hamilton, locked a wheel and tapped Hamilton's tyre leading to a bad spin. Hamilton's race now became one of recovery as he worked his way through the field, while Räikkönen drove the wheels off his car to work off a gigantic ten-second penalty.
ALSO READ: Sebastian Vettel wins thrilling British Grand Prix as Lewis Hamilton recovers to second
The drivers finished second and third behind an unchallenged Vettel, and Räikkönen, who admitted the touch was his fault, was clear. "I took the ten seconds and kept fighting," said the Finn about a race where he was frankly spectacular considering the penalty, while a surly Hamilton walked away from the post-race questions.
Later, he alleged the Ferrari cars were using "interesting tactics" to keep him at bay, an assertion that is embarrassingly juvenile and one Hamilton's biggest admirers — or even the most partisan British motorsport journalists — cannot possibly defend. There has been Ferrari-Mercedes contact in two races now (Vettel hit Bottas in France), but this accusation reeks of desperation and paranoia.
ALSO READ: American F2 driver banned for collision, using mobile phone in car
"It's quite silly to think that anything that happened was deliberate," said an amused Vettel sitting next to an irate Hamilton. "I, at least, would struggle to be that precise and take somebody out. In France I lost my wing, and I screwed my race. I think it's easy to attack and have a great move, and [as] easy to have an incident." Faced with widespread global disdain, Hamilton later acknowledged his error on Instagram, posting that "Sometimes we say dumb sh*t and we learn from it."
Hamilton is a tremendous racing driver but he has started, far too often, to gripe when things aren't going his way, and deflect the blame instead of getting the job done on the track. This approach is reminiscent of Fernando Alonso in the mid 2000s when he accused his own Renault team of sabotaging his Championship efforts.
This year, Hamilton's unputdownable killer instinct seems lacking, and he needs to refocus. He is flailing at a time when Mercedes are making poor strategic calls and are suddenly low on reliability, but one win next time — in Germany, Vettel's home race — will make everything sunny again. So long as he doesn't try anything "interesting."
Raja Sen is a film critic who has been writing on Formula One since 2004. Views expressed are personal.