Weightlifter Sanjita Chanu, CWG gold medallist, fails dope test, gets suspended
May 31, 2018 07:39 PM IST
The International Weightlifting Federation (IWF) is yet to clarify whether weightlifter Sanjita Chanu tested positive for testosterone in Gold Coast or some other international competition.
Weightlifter Sanjita Chanu, who won gold in the women's 53kg weightlifting event at the 2018 Commonwealth Games in Gold Coast, has failed a dope test for anabolic steroid, testosterone. According to the International Weightlifting Federation (IWF), the Indian lifter has been provisionally suspended, and, if proved guilty, will be slapped with a four-year ban.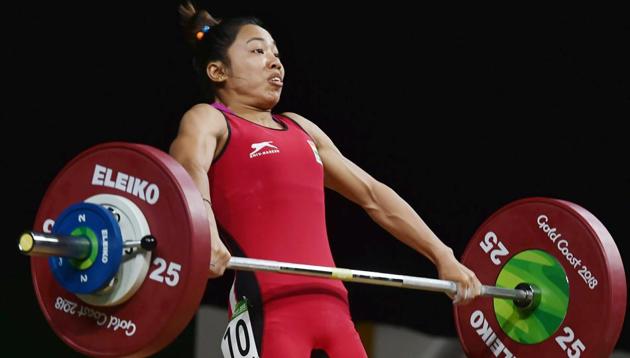 "IWF reports that the sample of Ms. Sanjita Chanu Khumukcham (IND) has returned an Adverse Analytical Finding for Testosterone (S1.1 Anabolic Agents). As a consequence, the Athlete is provisionally suspended in view of a potential anti-doping rule violation," the IWF stated in its website.
READ MORE | Gagan Narang, three CWG champion lifters, dropped in TOPs scheme reshuffle
However, there is no clarity as to whether she tested positive for the banned drug in Gold Coast or some other international competition.
Chief national coach Vijay Sharma didn't respond to calls from HT, but Sahdev Yadav, general secretary of the Indian weightlifting Federation, confirmed the development, saying one of the top lifters had failed dope test, but said it was during the 2017 World Championships in USA.
"Since B sample (test) is pending we can't share the details," said Yadav.
The World Championship was held last year from November 28 to December 1, and it remains to be seen whether Sanjita would lose her CWG 2018 gold medal.
READ MORE | Garbine Muguruza downs wild card Fiona Ferro , in French Open Rd 3
During the CWG, the 24 year old from Manipur set a new Commonwealth Games record with a lift of 84 kg in snatch and 108 kg in clean and jerk, to finish with a total of 192 kg.
The doping violation will be big setback to national team as the incident has happened at an international competition. And, as per the new anti-doping policy of the world governing body, the penalty also includes a reduced quota place for Indian in the 2020 Tokyo Olympics.
Sanjita was included in the national camp for the Asian Games. She was training in Sports Authority of India (SAI) centre in Shilaroo, Himachal Pradesh, but has been forced to quit the camp due to the development.
Overall, Indian lifting team won nine medals including five gold at the CWG. World champion Mirabai Chanu (48kg) and Punam Yadav (69kg) were other two winners in the women's segment while Venkat Rahul Ragala (85kg) and Sathish Kumar Sivalingam (77kg) were victorious in the men's section. Pradeep Kumar (105kg) and Guru Raja (56kg) claimed silver while Vikas Thakur (94kg) and Deepak Lather (69kg) won bronze to round up the medal tally.
India's outstanding performance in the CWG raised hopes of a successful campaign by the weightlifters at the Asian Games in Jakarta in August.