Hima Das: the journey of a champion athlete from Ding to Tampere
Updated on Jul 15, 2018 10:40 AM IST
Hima Das became the first Indian woman to win a gold at the IAAF World Under-20 Athletics Championships in the 400m final race.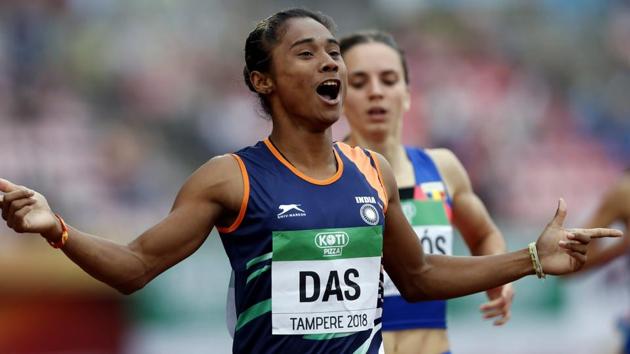 Hindustan Times, Guwahati |
Sadiq Naqvi
There is more than one hat that Hima Das, popularly known as "Ding Express" in Assam, dons.
A world class athlete, who swept past global competition with relative ease in under-20 world championship in Tampere, is a socially-conscious teenager, who participated in a crusade to close liquor shops, and ensure education for girl children in her village, said her family, who recalled how a school teacher made her take athletics in place of her first love, football.
READ | Hima Das ends campaign after anchoring relay team to junior national record
Daughter of a rice-farmer, gutsy Das, was spotted by a teacher of Jawahar Navodaya Vidalaya in Morigaon, Assam, Shams Ul Haq, in 2011-12 when she visited the Central government run school for a sporting event.
"She won all the athletics events. I told the district sports officer that she can do well if trained properly," the physical training teacher said. "She was focused and wanted to win everything even as a child."
In over a year, she was a district champ but took almost two years to reach the state-level competition. In early 2016, she won the 100 meters race at the state championships and later at year made to the finals of Junior Athletics Championship in Coimbatore without any training, stunning all.
READ | Hima Das creates history in IAAF World U20 Championships - Watch video
"Before this she was in a village where she had never seen a synthetic track," said one of her coach Nabajit Malakar.In January 2017, when Directorate of Sports organised a camp for budding sportsmen, Hima came to attend and impressed everyone again.
Nipun Das saw Das there and asked her to shift to Guwahati for better training. He even paid for her stay in the state capital till the state government provided her accommodation at the sports academy in Guwahati.
"She did not have even proper spikes then, but she always said she would not disappoint us," he recalled.
Das used to participate in 100 and 200 meters race. But, the shift to 400 meters came when coaches spotted that she used to start slow and peaked in the end, meaning a perfect athlete for 400 metres sprint. It was in May 2017 that Malakar and Das made her run 400 metres in Guwahati. Hima clocked 57 seconds. And rest is history now.
READ | 'Always believed she would win': Hima Das' family reacts to her victory
Back in Kandulmari Village in Nagaon, 140 Kilometres from Guwahati, where Hima grew up in a joint family of farmers, she was playing all sports. "She would run, play football, even Kabaddi. She also loved to work in the farm and drive around in the tractor," Parvati Bharali her aunt said, adding that football was her favourite sport.
Joy Das, her cousin, provided insight into another dimension of her life. "She even participated when our village women started demolishing local liquor shops. She was a vocal votary for girl education," he said, describing her as a "stubborn girl" who would refuse to heed advice not to play football with boys.
READ | Hima Das becomes first Indian woman to win gold in World U-20 Athletics Championships
"I always believed she would win it. Hungama ho gaya hai (It has been a sensation)... She has made the country proud," Ranjit Das, the proud father said of his eldest daughter.
"She always wanted to wear the Indian jersey," Pinak Jyoti Bora, who is among the seven in Hima's close group of friends she calls 'Monjai' says. Monjai, Bora informs, is the Assamese for 'Dil Chahta Hai'. It stands for aspiration. It is this group she hangs out with when in Assam. "She was here a couple of weeks back. We played carrom all night," Bora says. "Bohot masti kiya."