Saina Nehwal feels it is only a matter of time before she beats World No.1 Tai Tzu Ying
Updated on Jan 30, 2018 07:32 PM IST
Saina Nehwal, PV Sindhu and Carolina Marin will be the favourites for the India Open badminton tournament.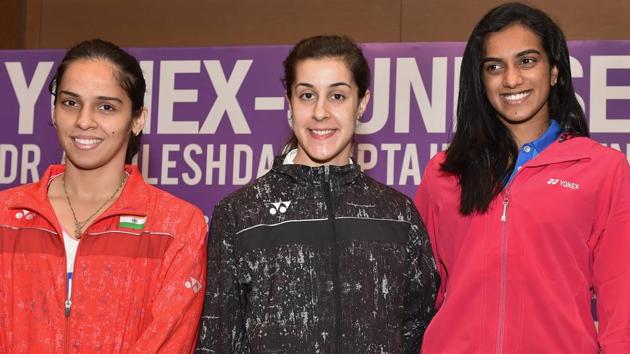 Press Trust of India, New Delhi |
Press Trust of India
World No 1 Tai Tzu Ying might have proved to be a nemesis for Saina Nehwal but the Indian shuttler believes the Taiwanese is not unbeatable and exuded confidence of defeating her in due time.
Tai Tzu, who clinched five titles last year, has defeated Saina nine times in last 10 meetings with only three of them going into a decider, albeit for a lost cause.
Last Sunday, Saina suffered her seventh straight loss to the Taiwanese at the Indonesia Masters final.
READ | I played badminton without lure of return, money or reward: Prakash Padukone
"You see the number of tournaments she has won last year, so it is not only the Indians who are losing to her. She is the best player right now, she is tricky, she is very focused and consistently reaching the finals and we have to look up to her," Saina told reporters.
"I think the top 15 players are doing well. There are some players who you are not comfortable against but it is not that we can't beat her.
"Tai Tzu almost lost to Michelle Li in the first round at Indonesia, so we will have to figure out a way to beat her. I think it is a matter of time, we have it in us to do well against her," she added.
Sindhu too have found the going tough against Tai Tzu, who has defeated the Indian eight times in 11 meetings. The 23-year-old Taiwanese has beaten Sindhu in the last four encounters.
READ | Saina Nehwal, PV Sindhu start favourites at India Open badminton
"She is definitely doing well and when you are mentioning about the losses, you also have to mention that I had beaten her in the PBL," Sindhu laughed, referring to her victory at the Premier Badminton League early this month.
"Well, of course it was different scoring system. She is doing well, she is consistent. But its not like we can't beat her. I always feel it depends on how one plays on that day, we might have ups and downs and we need to be focussed to beat her," she added.
Saina, who recovered from an ankle injury, to enter her first Major final since the knee injury-induced ouster from the Rio Olympics at Indonesia, said she is looking to stay fit and not losing her sleep over results in tournaments.
"The only thing I am looking to do is stay fit and train hard and yes it has been an excellent week at Indonesia for me. Thanks to Gopi sir, we didn't have much time after the PBL, so basically it was 5-6 good sessions of preparation before the Indonesia Open and I came out with good result," she said.
Asked how she will handle the workload during the hectic season ahead, Saina snapped: "I am not looking forward to any tournament, just want to stay fit."
Later when she was termed as a 'title-contender' for the India Open, Saina sarcastic response was: "Last few months, I was not a title contender, so I don't know from where it is coming. It's okay I am performing well so hope to do well."
READ | Saina Nehwal goes down in Indonesia Masters badminton final to Tai Tzu Ying
Sindhu, however, was her usual self. "Each round would be tough, so we should prepare one at a time. I know I won last time and Saina also won in 2015, so we will have to give my best."
The India Open Super 500 tournament lost a lot of sheen with the last-moment withdrawal of world no 1s Viktor Axelsen and Tai Tzu in a draw which doesn't have the top Japanese or Chinese players.
BAI general secretary Anup Narang said: "We had some withdrawal, Viktor Axelsen and Tai Tzu Ying pulled out at the last moment. But we have Carolina Marin, Saina Nehwal, PV Sindhu and K Srikanth, so we have a very good list of players playing.
"But yes number of entries have gone down. Probably because players are getting in terms with a tough schedule and they have to decide how they want to go about it," he added.
Besides Saina and Sindhu, Olympic champion Carolina Marin and World No 4 Thai Ratchanok Intanon are the other top players.
The two-time former world championship Marin will be in her third week after playing at Malaysia Masters and Indonesia Masters.
Asked why did she plan to participate in three tournaments on the trot, Marin said: "It is tough year for every player since the calender has changed and my strategy may be is to play three in a roll because perhaps I am not comfortable with other tournaments later in the year and also I will get good time to prepare for All England."