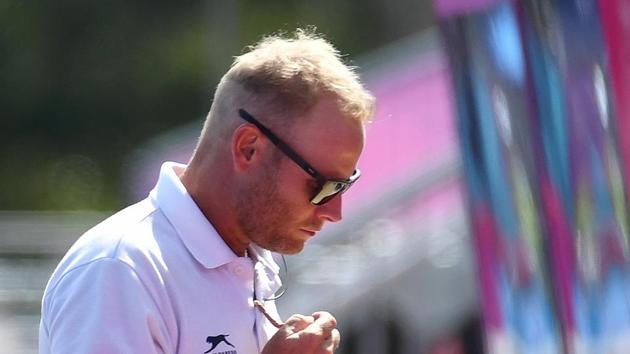 Sjoerd Marijne says his coaching style was 'players driven' after getting removed from men's team
Sjoerd Marijne was replaced by Harendra Singh as coach of the Indian men's hockey team after a review of the team's performance at the Gold Coast Commonwealth Games 2018.
UPDATED ON MAY 01, 2018 09:51 PM IST
Despite criticism over his coaching style at the Commonwealth Games, former Indian men's hockey team coach Sjoerd Marijne has defended his "players driven" approach, saying it instilled "responsibility".
Marijne's approach did not go down well with some senior players, who complained to Hockey India (HI), and finally resulted in him being moved as women's team coach.
READ | Hockey India names Harendra Singh as men's coach, replacing Sjoerd Marijne
Soon after HI announced that he would return to take charge of the women's team, Marijne issued a statement from Hertogenbosch, Netherlands, saying, "The coaching style I choose was players driven. The reason is that players learn to take responsibility for their actions because all the decisions which are taken they were involved and that means they were supporting the plan," Marijne said in his statement.
"The other reason (for this approach) is that when you involve players in the thinking process they will get more tactical awareness and learn faster. This is scientifically proven because they have to learn to take decisions inside the pitch. It means that I prepare the matches and after this I share it with the leaders so they can explain in Hindi to the rest of the team," said Marijne.
But it was clear that the players were not comfortable with his approach, though the coach defended his tactic and claimed his approach would have proved successful in the Asian Games and the World Cup. "I had a lot of confidence that with this way of working we could win the Asian Games and the Word Cup," he said.
READ | Hockey India's appointment of Sjoerd Marijne as men's coach defies logic
So, while the players were uncomfortable with his approach and the administrators unhappy, the question that begs answer is, why did HI not sack him, and, instead made him women's team in-charge?
The reason: Lack of support from the sports ministry, which had raised eyebrows when HI wanted to bring in a top foreign coach to replace Roelant Oltmans. The ministry objected to HI's hire-and-fire policy as the Dutch expert's contract had been extended only six months before his ouster. HI was also worried over the backlash in case a foreign expert was hired for the men's team while Harendra continued as women's team coach.
READ | PR Sreejesh replaces Manpreet Singh as skipper of Indian men's hockey team
And, bringing in two coaches would have taken time. The easy solution was to swap the coaches, caring little for the women's team which will have to adjust to another coach after a six-month stint under Harendra.
Marijne is still in the Netherlands and likely to reach India next week to hold meetings with HI officials before joining the team in Korea. He will have his first training session with the team days before the Asian Champions Trophy.
Close