Police plan Lok Samvad in Maoist strongholds in Munger, Bhagalpur from next month
Aug 09, 2017 12:09 PM IST
The objective of extending the Lok Samvad programme to Maoist strongholds in Banka, Jamui, Munger and Lakhisarai districts in eastern Bihar is building confidence of people in policing.
Buoyed by the encouraging response to its Lok Samvad, a public interface initiative in Bhagalpur and Munger, the police have now decided to extend it to Maoist strongholds in Jamui and Lakhisarai as well from next month.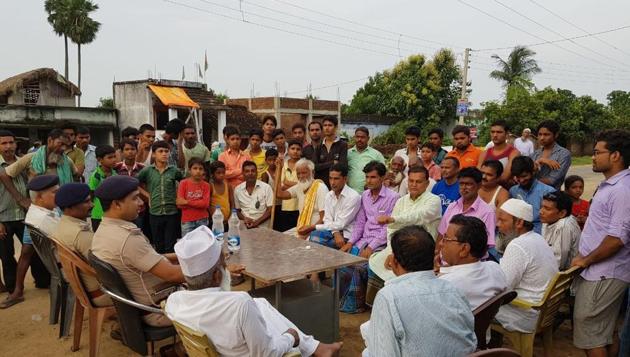 Aimed at identifying gaps in policing and finding solutions to core problems through interaction with common people, deputy inspector general of police Vikas Vaibhav had initiated the Lok Samvad programme in eastern range, comprising Bhagalpur and Banka districts, nearly three months back.
The programme was launched in Munger last Saturday after Vaibhav was given additional charge of the range. The Munger range comprises six districts — Munger, Lakhisarai, Jamui, Sheikhpura, Begusarai and Khagaria.
The first Saturday of every month has been fixed for organising the event in different police station areas of Munger and eastern ranges.
"Building confidence of people in policing, apart from ensuring their involvement in mainstream activities, will be our objective in extending the programme to Maoist strongholds in Banka, Jamui, Munger and Lakhisarai districts under the two police ranges of eastern Bihar," Vaibhav said.
"Departing from the earlier practice of organising such meetings at police stations, the Lok Samvads are being held at different venues, primarily to ensure that participants feel free in expressing their views," he said. However, taking into account security concerns, Lok Samvad would be organised in police stations in areas of Maoist influence, he said.
At places where Lok Samvad had already begun, people shared problems they generally faced in lodging complaints at police station, the DIG said, adding that corrective measures in this regard were being taken.
He said for solution to problems like encroachment through Lok Samvad, efforts had been initiated to build consensus among stakeholders in Munger town. Similar initiative for clearing encroachments had also begun at Jamalpur in Munger district, Vaibhav added.
Meanwhile, sources said the police had also initiated sports activities, involving common man, at select places in Bhagalpur to make the programme more popular.