Rats! Bihar minister blames rodents for weakening embankments, causing floods
Sep 02, 2017 11:36 AM IST
Bihar water resources minister Rajiv Ranjan says people living on embankments litter food grains which attract rats.
From liquor to floods, the tiny rat is dominating the public discourse in Bihar.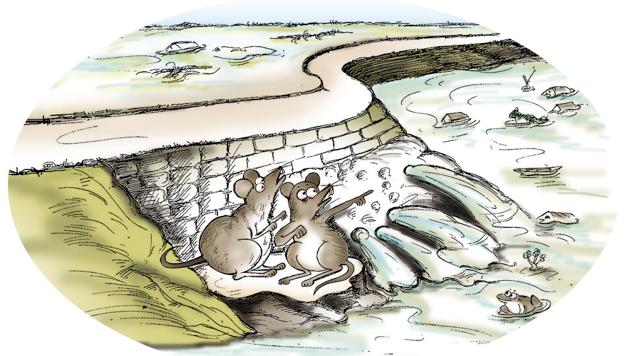 Bihar water resources minister Rajiv Ranjan has blamed rodents for the state's crumbling embankments and the consequent flooding in 21 districts that has left more than 500 people dead and lakhs homeless.
"People living on embankments litter food grains, inviting rats, which carve out holes that weaken embankments," he said during a review meeting on Friday.
"We have tried to fix such problems, detecting such rat holes and getting them repaired within 72 hours to save several areas," he added.
Though experts agree that rat and fox holes weaken embankments, the latest round of floods was main attributed to some of the heaviest rainfall in the northern districts in many years.
Department chief secretary Anjani Kumar Singh too blamed rats for the problem.
"If such things come to light, engineers should immediately get down to reinforcing the protective bundhs," Singh said during a media briefing after the meeting.
Critics and opposition parties, however, accused the government of absolving itself of its failures and finding a scapegoat in rats.
Last month, Prime Minister Narendra Modi made an aerial survey of the flood affected areas and sanctioned Rs 500 crore for relief and rehabilitation.
Rashtriya Janata Dal chief Lalu Prasad, who has been attacking the Bihar government over the floods, wasted no time in hitting back.
"The minister is the biggest rodent. We will expose them all for causing such huge destruction. Imagine, a minister talking like this to hide his own failures," he said in Ranchi.
Another RJD leader, Shakti Singh Yadav, said if rats were really causing such serious problems, the government should immediately come up with a plan to deal with it.
BJP MLA Mithilesh Tiwari, however, was also not convinced with the minister's argument.
"Earlier, they said in reply to a question in the assembly that all embankments are safe but now rats are being blamed, while people suffer," he said.
This is, however, not the first time rats have emerged as a villain in the state
A few months ago, there were reports of rats allegedly guzzling thousands of litres of liquor seized and stored in police stations. Bihar implemented total prohibition in April.
Chief minister Nitish Kumar had later periodic monitoring and destruction of the seized stocks after it was alleged that the lost liquor may have been consumed or sold illegally by a section in the police.