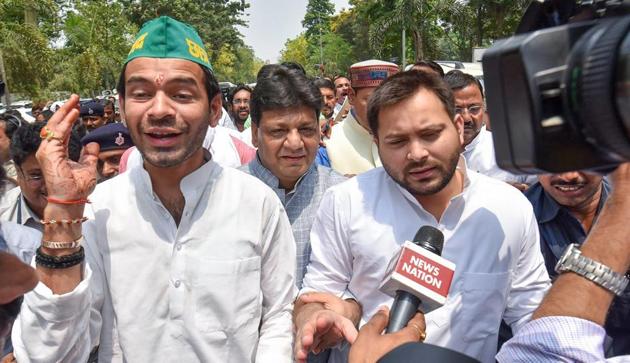 Sibling rivalry comes to fore in Lalu Yadav's family as sidelined Tej Pratap sulks
Just a month after his star studded marriage, RJD chief Lalu Prasad's elder son Tej Pratap Yadav is sulking for apparently being sidelined in the internal affairs of the party and even dropped hints of moving to 'Dwarka' for solace.
UPDATED ON JUN 09, 2018 11:20 PM IST
All is not well within the first family of the Rashtriya Janata Dal.
Just a month after his star studded marriage, RJD chief Lalu Prasad's elder son Tej Pratap Yadav is sulking for apparently being sidelined in the internal affairs of the party and even dropped hints of moving to 'Dwarka' for solace.
A religious-minded person, Tej Pratap chose to take to Twitter on Saturday to express his anguish and frustration saying he was ready to hand over the reins of 'Hastinapur' to 'Arjun' (read Tejashwi) and move to 'Dwarka'. "Mera sochna hai ki main Arjun ko Hastinapur ki gaddi par baithaoon aur khud Dwarka chala jaoon," the tweet read.
The elder son of Lalu Prasad also hinted that there are some people who are unhappy that he would emerge as a "kingmaker", a reference to his own earlier decision to pave way for his younger brother to let him become heir apparent of his father and also the leader of Opposition in the Bihar assembly.
"Kuch ek chuglo ko kasht hai ke main kingmaker na kahlaoon (some sycophants are unhappy over the fact that I will be known as a kingmaker)," he tweeted.
The statement is indicative of how not everything is right within Lalu's family and also points to the growing sibling rivalry among Lalu's children, apparently due to the RJD chief's younger son Tejashwi Prasad Yadav hogging all the limelight and emerging as a prominent regional leader by carrying on his father's legacy.
'Some people trying to undermine my status'
What has triggered the latest controversy is Tej Pratap's own admission before a section of mediapersons that certain "anti-social elements" have entered the party who are working overtime to create bad blood among the two brothers and deliberately sidelining him from key decision making process in the party.
"I have a lot of love for my brother and I respect my mother and father. But I feel there are some people who are trying to wedge a rift between the two brothers and undermining my status in the party just to insult me," said an anguished Tej Pratap.
The former health minister who is married to Aishwarya Rai, daughter of senior RJD leader Chandrika Rai, also disclosed that he has shared his anguish and desperation with his wife. "My wife is shocked to learn that I am being sidelined in the party and my voice has no importance in the party affairs," he said.
Known for his provocative statements in the past and brash mannerisms, Tej Pratap also revealed that he was angry because he wanted one of his close aides, Rajendra Prasad, to be given due recognition in the party, but it elicited only a lukewarm response from party seniors, including state president Ram Chandra Purbe.
"When I ring up any senior leader of the party, I get no response. It is said they have pressure from higher-ups and cannot do anything," he said, adding that RJD's youth wing steered by him was being accorded little importance in the party.
Incidentally, Tej Pratap had launched an outfit called DSS — Dharmanirpeksha Sevak Sangh — to counter RSS, which was seen as an attempt by the Yadav scion to gain some political foothold in the party. But the organisation has remained a non-starter.
Top leadership shifts loyalty to Tejashwi
People familiar with the matter revealed that Tej Pratap has been unhappy with the way the party's top leadership has shifted its loyalty towards Tejashwi over the past few months, especially after the RJD chief's incarceration in fodder scam cases.
The reference of "sychophants" by Tej Pratap is said to be aimed at close aides of Tejashwi and a few MLAs who have become powerful in recent months due to Lalu's absence from Patna. "But I will not quit politics and do 'rajniti' wherever I go," Tej Pratap said.
The sibling rivalry within Lalu's family is not a healthy sign for the party and it shows how Tej Pratap, after his marriage, is making an assertive bid to gain more prominence in the party. Family insiders feel there are chances that Tej Pratap might stake a claim for a bigger post/role in the party in the coming days and throw up a challenge to his younger brother who has already been "declared the CM candidate of the party" for the next assembly elections due in 2020.
Old timers also recall how RJD had faced a political debacle due to the vaulting ambition of Lalu's two estranged brothers-in-law, Sadhu Yadav and Subhash Yadav during the RJD regime from 1990 to 2005.
Close