Cyrus Poonawalla becomes first Indian to be conferred 'Doctor of Human Letters' degree
Hindustan Times, Pune |
, Pune
Parth Welankar
Aug 06, 2018 04:31 PM IST
He was awarded the degree by the University of Massachusetts earlier this year for his outstanding contribution to the field of vaccination
Founder of Serum Institute of India, Cyrus Poonawalla, was on Sunday felicitated by the Nationalist Congress Party (NCP) chief Sharad Pawar for being the first Indian to be conferred with the binary of 'Doctor of Human Letters' degree by the University of Massachusetts earlier this year for his outstanding contribution to the field of vaccination.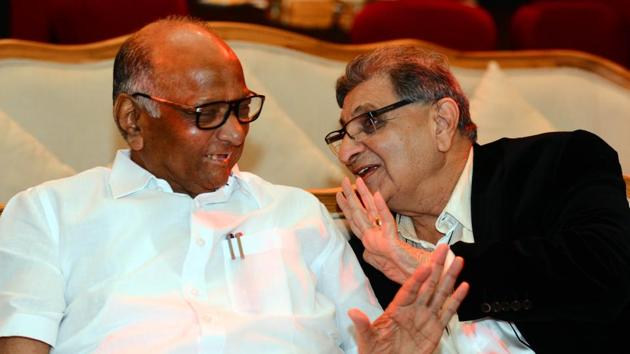 Expressing his gratitude towards the university, Poonawalla said, "I am extremely humble to receive such a prestigious honour. Ever since Serum Institute was established, our primary objective has been to make life-saving vaccination available at the most affordable costs to the masses."
We will continue to strive towards ensuring every child is immunised in India and the rest of the world, added Poonawalla, dedicating all his achievements to the almighty.
Sharad Pawar said, "As an Indian, we feel proud of Cyrus Poonawalla's achievement. From the time of inception of the institution, his contribution is unparalleled for the country and the entire globe. Poonawalla has, for the past 50 years, relentlessly driven the immunisation drive in our country. We are extremely proud to witness that his work has been appreciated and acknowledged from across the lengths and breadths of the country."
It is an occasion of great honour and pride for us, added Pawar.
Poonawalla has also been nominated for the Noble Prize award. Giving Poonawalla accolades for being nominated for the Noble award, Pawar said, "Although it is very early to make any comment, however, I am sure, that Poonawalla's contribution towards humanity and mankind will win him all the awards."
Serum Institute of India is a manufacturer of immunobiological drugs, including vaccines, in India. It is the world's largest vaccine producer by number of doses produced. The company is developing an intra-nasal swine flu vaccine. Co-developed with US-based Mass Biologics of the University of Massachusetts Medical School, it invented a fast-acting anti-rabies agent, Rabies Human Monoclonal Antibody (RMAb).