Hazare ends fast: Fadnavis plays peacemaker, uses his proximity to veteran social activist
Anna Hazare breaks fast after holding talks with Fadnavis, who assured the crusader that his demands will be considered by the Centre.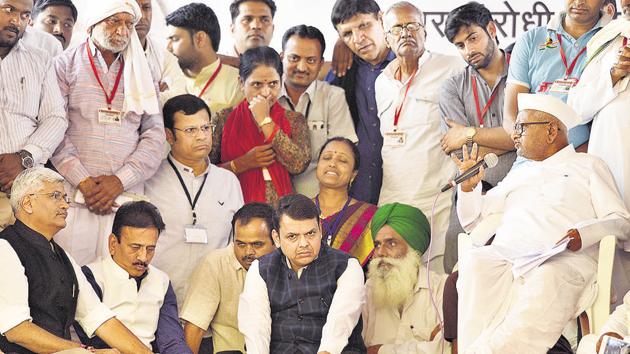 Updated on Mar 30, 2018 04:34 PM IST
Anti-corruption crusader Anna Hazare ended his fast at Delhi's Ramlila ground on the seventh day of the strike on Thursday in the presence of Devendra Fadnavis, highlighting the chief minister's proximity with the activist, which helped the BJP government prevent the situation from escalating.
Hazare broke his fast after holding talks with Fadnavis, who assured the crusader that his demands will be considered by the Centre.
It was Fadnavis and his cabinet colleague Girish Mahajan, who were in constant touch with Hazare since March 20, three days before the crusader was to start his agitation to push for appointment of Lokpal and higher prices for farm produce.
During his interview to Hindustan Times before he undertook the fast, Hazare maintained that he has a high opinion of Fadnavis though the crusader was critical of the BJP leadership. "In my opinion, Fadnavis is a good man. He is doing many good things in the state," Hazare said while criticising Prime Minister Narendra Modi in the interview.
It was two years ago when the chief minister involved Hazare in the government's attempts to keep a check on the sale and distribution of illicit liquor, one of the favourite subjects of Hazare. The government, following Hazare's suggestion, promptly responded and prepared the draft bill, which was eventually passed in the assembly.
The Maharashtra government took advice from Hazare to amend the Maharashtra Prohibition Act which has empowered the gram sabha constituted at the village level. It gave powers to the gram rakshaks to act as police informants and assist in curbing illicit liquor. The chief minister also personally visited Ralegan Siddhi, the home town of Hazare, to inaugurate the event about gram suraksha dal (village protection force).
It was just before the agitation began in Delhi, when Fadnavis reached out to Hazare through his cabinet colleague Girish Mahajan and began a dialogue, which ultimately led to the end of the strike.
After breaking the fast, Hazare said Fadnavis and Mahajan played a crucial role in considering his demands. "The chief minister and his colleagues were in touch with me discussing our demands. They played a crucial role in talking to us and the Centre," said Hazare.
Fadnavis, too, praised Hazare, calling him a crusader who has been fighting against corruption all his life. "Both Hazare and Modi have been fighting against corruption. After today, Hazare will not have to sit on fast," said Fadnavis.
Knowing Hazare's cordial relation with Fadnavis, the Centre too engaged with the Maharashtra chief minister. It was a déjà vu moment as during Hazare's 2011 agitation, the UPA government in power that time, had also preferred the then chief minister Vilasrao Deshmukh to negotiate with the crusader .
Close Story