40% children in Punjab go to school on an empty stomach, says report
Updated on Sep 13, 2018 12:00 PM IST
Absence of adequate breakfast over extended period affects behaviour and nutritional status, besides active learning capacity, says an agency report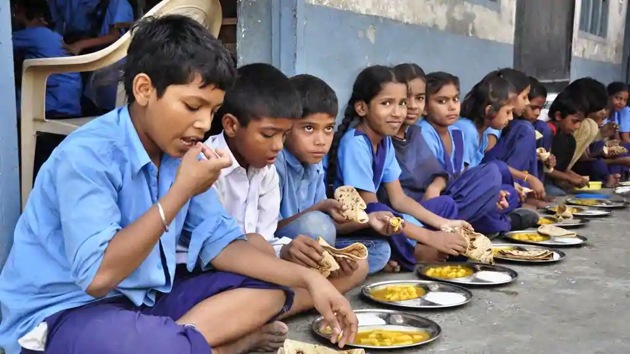 Two in five children of primary and upper primary classes in Punjab are going to school hungry, showing decreased attentiveness and low concentration span.
A nutritional assessment study carried out by a multi-agency Joint Review Mission on the mid-day meal scheme in government schools has found that about 40% children of classes 1 to 8 go to school without having breakfast. The sample survey was carried out in 43 schools in Jalandhar and Rupnagar districts by a team comprising food and nutrition, health and education experts, director, mid-day meal scheme, and officials of the school education department for the Union human resource development ministry.
"Mid-day meal is the first serving of food for these children. Most of the other children surveyed have one chapatti or paratha for breakfast along with vegetable or dal. Only 8% children have milk in the morning whereas 60% consume tea before coming to school," according to the study. "The meal pattern of children appears to be such that the nutritional requirements may go into a deficit causing the kids to become undernourished. Also, micronutrient deficiencies are likely to occur in these students," reveals the study.
Various studies undertaken from time to time have suggested that absence of adequate breakfast over extended period can affect both behaviour and nutritional status. And, such children exhibit irritability, decreased attentiveness and low concentration span, all of which affect their active learning capacity. "Also, malnutrition has an effect on the universalisation of elementary education. Even if a malnourished child does attend school, he or she finds it difficult to concentrate on and participate in the learning activities in the school. Unable to cope, the child often drops out of school," reads the report.
The JRM team had travelled to these schools in January and February this year and their findings were shared with different agencies recently. It recommended to the school education department to create awareness among parents that the mid-day meal was not a substitute for breakfast and lunch. While the study did not go into the reasons for children arriving unfed, some teachers this newspaper spoke to listed parental apathy, financial hardship and in some cases even parents' marital discord among the reasons.
Sanjha Adhyapak Morcha convener Balkar Singh Valtoha said it is a serious problem even though the number of such children may vary from school to school. "In government schools, a large number of children come from poor families. Parents are daily wage earners facing financial hardship who send them to school with the belief that the mid-day meal will be sufficient. Another problem is alcoholism that creates dispute in families, resulting in lack of care for children in some cases," he said.
Harinder Singh, a primary school teacher, said the number of children coming on an empty stomach was about 10 in his school. "Parental apathy due to marital discord and financial difficulties are the main reasons. We make sure they get something to eat before the mid-day meal is served," he said.
Mid-day meal Punjab general manager Prabhcharan Singh denied having any information about the JRM report. However, he said some states provide milk with biscuits or two slices of bread to government school children for breakfast. While there is no move in Punjab in this regard, the HRD ministry is contemplating to serve breakfast to children in their schools along with the mid-day meal.