Ahead of festive season, sweets, milk, grocery items fail purity test in Punjab's Doaba region
42% food samples in Kapurthala, 28% in Jalandhar, 49% in SBS Nagar fail quality tests in past two months, drive to continue even after season gets over, say health department officials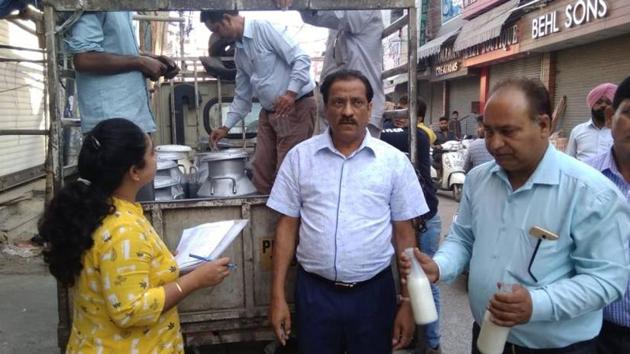 Updated on Oct 27, 2018 11:04 AM IST
Figures released by health department on Friday revealed that 42% samples of food and milk product samples collected in Kapurthala didn't meet food safety standards.
Out of the 92 food samples collected in last two months, 39 samples failed quality test under the Prevention of Food Adulteration Act, 1954. They contained poor-quality ingredients, said the health department.
Food assistant commissioner Harjot Pal Singh said the health department collected 52 food samples in August, out of which 27 failed. Out of 40 samples collected in September, 12 failed quality test when sent to the state food laboratory in Kharar.
The sample of 1.4 quintal cheese that was seized from a car coming from Gurdaspur was also found substandard. The reports revealed that Maa Durga dairy manufacturing unit, Gurdaspur, used refined oil in preparation of cheese.
The food assistant commissioner said spurious paneer brought from other districts is generally sold in the market at a price of Rs 170 per kg or higher, while the market price of pure paneer is Rs 260 per kg.
He further said 1.6 quintal coloured and substandard sweets of Shegal sweets in Kapurthala were destroyed in September.
In Jalandhar, 75 food, milk samples were found substandard in two months.
The food safety wing of the health department collected 264 samples of food items in last two months, out of which 75 (or 28%) failed quality check.
As per the health department, grocery items and milk products form the major chunk of food items that fail quality tests.
Food safety officer Rashu Mahajan said the festive season has already started. Risk of adulterated food increases during this time but the drive against the food adulteration will continue even after the end of the season.
District health officer Balwinder Singh said two samples, including, flour from a dhaba in Rama Mandi and rasgulla from Vipan Brothers sweet shop in Kathar village here, were found unfit for human consumption.
In SBS Nagar, 49% of food samples failed purity test.
The district health department collected 80 food samples in last two months, out of which 39 failed purity test. Out of 40 samples collected in August, 25 failed the quality test. Of the 40 samples collected in September, 14 failed purity test, while reports of 10 samples are still pending.
The food safety team will launch civil or criminal proceedings against defaulters as the cases of substandard products are being filed in the court of the additional deputy commissioner (ADC) and unsafe cases are listed in the chief judicial magistrate court.
Close Story