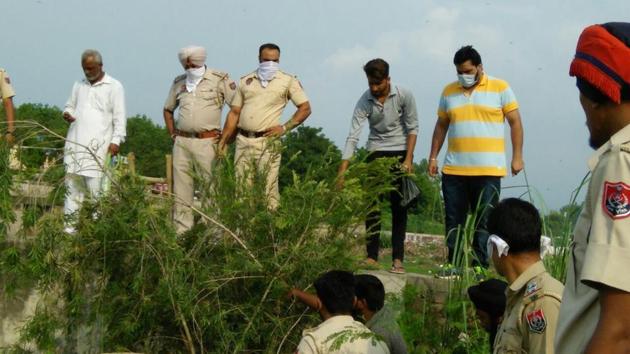 Bist-Doab canal tragedy: Body of second missing girl found, three arrested
MYSTERY Body found after five-day long search operation; victims' kin suspect foul play
UPDATED ON JUL 27, 2017 12:25 PM IST
The five-day long search operation of the local police ended on Tuesday after the divers recovered the body of Rupinderjeet Kaur ,14, of Chahla village from Bist-Doab canal in Kangna village of Balachaur town. Kaur with her classmate Manpreet Kaur ,14, of Sudha Majra went missing on July 21under mysterious circumstances.
During the initial search operations on July 21, victim Manpreet's body was found floating in the canal.
Rupinderjeet's father Kulwant Singh, who works as truck driver, had called the police after spotting the body.The villagers and cops had brought out the body from the canal and later shifted to Balachaur civil hospital for post-mortem. The police officials are yet to officially comment about whether both girls had jumped into the canal or if there is any other angle.
Meanwhile, Balachaur police arrested three youths in case on Tuesday. Senior superintendent of police (SSP) Satinder Singh confirmed the arrest but said things will be made clear in the coming days. "The case is sensitive case and investigations are going on," SSP said. SSP Singh had deputed separate teams for the search operations. As many as 150 cops were also stationed across the town.
As per the CCTV footage, both girls were found crossing the road at 2.05 pm on July 21. On the same day, the school authorities had found a mobile phone from Rupinderjeet and informed her family. Balachaur police had registered a murder case against unidentified persons on the statement of Manpreet's uncle Balraj Singh, 30, of Nakodar. He had alleged that there was no water in her stomach and her mouth was covered in foam indicating that someone had killed her before dumping the body into the canal. The police had also registered a kidnapping case on the statement of Rupinderjeet's father Kulwant Singh, 45, as he had suspected someone had abducted his daughter. The cops have also talked to school authorities, classmates of the victims and the bus driver. As per the driver, the girls had stepped down in the midway claiming that they wanted to attend the tuition class. As per cops, later both girls had hired an auto-rickshaw to reach the canal.
Close