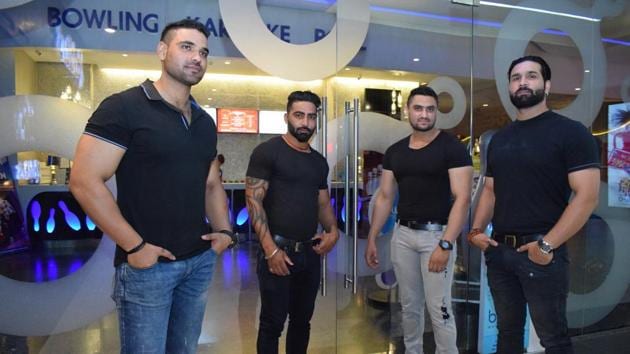 Chandigarh cops to maintain records of agencies providing bouncers, security guards
UPDATED ON MAY 19, 2017 12:25 PM IST
Learning lessons from the broad day light murder of bouncer Amit Sharma alias Meet, at Panchkula's Saketri area, on May 9, the UT Police have decided to maintain a record of all private security agencies in the city. The antecedents of the bouncers after verification would also be maintained.
Manimajra resident Meet was supplying bouncers to 12 night clubs in the tricity under his firm named 'The Black Bull'. Sources claim he had got employed 200 bouncers and finally business rivalry is stated to be the motive behind his murder. "We have decided to identify unregistered security agency companies operating illegally and providing bouncers and guards in the region and legal action will be taken," said Eish Singhal, SSP Chandigarh.
103 pvt security agencies with 10,000 guards function now
There are 103 registered private security agencies operating in Chandigarh that employ around 10,000 security guards with private agencies. In addition, 400 people, including college-going students, sportsmen and gym trainers are associated with the industry.
The problem arises here that neither the administration nor the police has record of these guards.
Law provides for five-yr licence
According to the Private Security Agencies (Regulation) Act, 2005, in force in Chandigarh, no person or private Security Agency can engage or provide private security guard without licence that is to issued by the DC office and valid for 5 years against payment of fee ranging between Rs 5,000 and Rs 25,000. The application for renewal of license shall be made to the Controlling Authority, not less than 45 days before the date of expiry of the period of validity thereof. Every private security agency shall exhibit its license or a copy thereof at a conspicuous spot at the place of its business. A violation entails a maximum jail term or 1 year or a fine of Rs 25,000 or both.
Administration's centre for training guards yet to take off
It was in May 2016 the central government had picked Chandigarh for setting up a centre for imparting training to security guards employed with different private agencies registered in the city but the same is yet to see the light of the day. Chandigarh was chosen for the pilot project under Private Security Agencies (Regulation) Act 2005. This was to be the first such centre in the country. Under this project Chandigarh administration was to impart training, in addition to the mandatory training given by private security agency, to the private security guards and supervisors.
Investigation status in both cases
The police found that only unlicenced and country-made weapons were used. None of the accused were holding arms licence, though most members of the two groups were carrying weapon. Three weapons were recovered.
Close