Chikungunya in Chandigarh: From lone case in 26 years, to 44 this year, so far
Chikungunya, a potentially deadly disease barely known in Chandigarh, has suddenly spread its tentacles in the city. So far, 44 people have been impacted this year and the number is rising, causing severe bodyache that can last months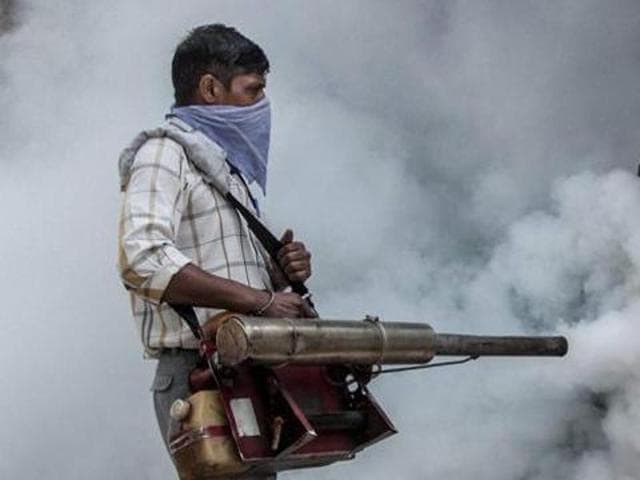 Updated on Sep 30, 2016 10:01 AM IST
Chikungunya, a potentially deadly disease barely known in Chandigarh, has suddenly spread its tentacles in the city. So far, 44 people have been impacted this year and the number is rising, causing severe bodyache that can last months.
But, how shocking is the number? Consider this: Digitised records of the UT's health department available from 1990 onwards show that there was not even a single case of chikungunya reported in Chandigarh until 2011, when one case was reported, informed Dr Gaurav Aggarwal, the anti-malaria officer, UT. That means the last case was five years ago, which itself had been reported as the first in 21 years. Many cases now are from Sectors 22, 24, 30 and 49.
As for dengue, with 35 cases on Thursday, the number is now 354.
While both the diseases are spread by the same mosquito, Aedes aegypti, doctors say chikungunya seems to have come from outside. Dr Rakesh Sehgal, head of the parasitology department at Postgraduate Institute of Medical Education and Research (PGIMER), said, "Chikungunya has largely remained a disease of the southern parts of India. The virus has been introduced from some other area and now local transmission is occurring."
Must read | Cases skyrocket: Hospitalised for dengue, 15-year-old dies in Mohali
There is no need to panic, said Dr Ram Singh from Government Medical College and Hospital (GMCH), Sector 32. "This is the first time we are seeing so many cases of chikungunya. Today alone, I have seen around 15 cases. The main symptoms are joint pain, rashes and fever," he said, adding, "We do not have that much expertise in dealing with chikungunya cases, as the disease is new in the city."
Experts believe that the number may just be the tip of the iceberg. "If the official data for dengue is more than 300, then the actual number can be in thousands," said a health official not willing to be named. "Though the disease is supposed to be notified, it is not necessary that all private laboratories are reporting to the health department," he reasoned.
Dr Sehgal said the numbers for both dengue and chikungunya will continue to rise till mid-October, "as there is conducive temperature (25-37 degrees Celsius) and high humidity". "Only when the night temperature starts declining will the number start coming down," he said.
Dr Aggarwal, the anti-malaria officer, too said, "By mid-October, the cases will stabilise, and after that we are expecting a decline."
Meanwhile, during a surveillance drive at Bapu Dham Colony, six challans were issued to repeat defaulters for maintaining mosquito-breeding conditions. This brings to total number of challan to 52, besides 50 showcause notices and 3,345 notices.
The UT health department has been covering four to five sectors daily in fogging. "Ideally, fogging should be done once a month, and, in epidemic-like situation, once in 15 days. We have covered entire Chandigarh once and are now doing the second round," said Dr Aggarwal.
"There is a great demand for fogging in all sectors, but we have two vehicle-mounted machines and five hand-held machines," he said.
Besides, people who want indoor spray can call the helpline 9779558282.
Close Story