Expansion plan: Adampur airport to get more facilities
Jun 10, 2018 02:32 PM IST
Upgrade: New terminal in an area of over 5,000 square metres will have all modern facilities. 
A month after it was upgraded as domestic airport with the commencement of daily Adampur-Delhi flight, the Adampur civil airport is all set to be developed on the pattern of the international airport.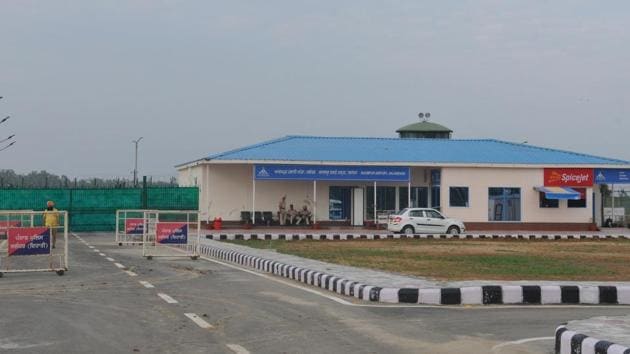 The first domestic flight from the airport, functioning from a temporary building in the premises of the Adampur Airforce base station, took off on Labour Day on May 1. The flight was inaugurated by Union minister Vijay Sampla.
The airport was established by the Union government under the Regional Connectivity Scheme.
The daily flight, started by the Spice Jet Airways with a seating capacity of 78, has been getting a good response with 85-90% bookings daily. Keeping in view the response, the Spice Jet Airways is also planning to start the second flight in the morning. At present, there is only single to and fro flight daily in the evening, officials said.
The airport authorities have decided to develop it on the international pattern, which will have all the modern facilities with two aprons for private jet planes.
Currently, the airport, set up on an area of 325 square metres, is congested as it can accommodate only around 90 people. A visitor and VIP lounge has been temporarily set up and high-powered X-ray machines are also in place, but due to a shortage of space, the airport doesn't provide all the required facilities to passengers.
Officials said that the new big terminal, to be established in the area of over 5,000 square metres worth over ₹100 crore will have all the modern facilities passengers get at any international airport. Kewal Krishan, director of the airport, said that the documentation process for setting up the new terminal is underway and once it is over steps will be taken to upgrade it.
"The new terminal is expected to have all the modern facilities, including cafeteria, parking and green area along with the space to accommodate at least 300 people," Krishan said.
Krishan said that tenders to set up the two aprons worth ₹16.5 crore have been allotted and the construction work is expected to be started in a week or two. The apron is the area of an airport where aircraft are parked, unloaded or loaded, refuelled, or boarded.
Varinder Kumar Sharma, deputy commissioner, Jalandhar, said that the daily flight has been getting a good response. "Airline authorities are also planning to start another flight soon," Sharma said.