Fallout of fuel price hike: Punjab transport dept hikes bus fare by 6 paisa per km
With the fresh hike, the travelling cost in an ordinary bus will be Rs 1.10 per km against the previous Rs 1.04 per km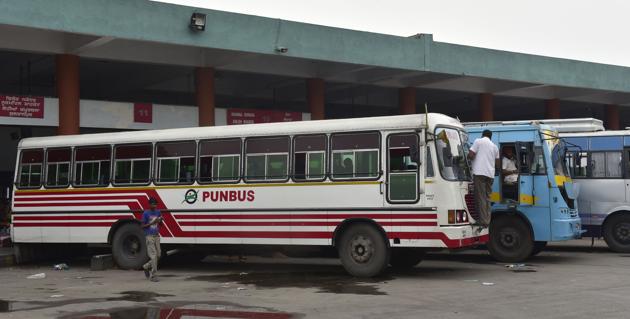 Updated on Jun 02, 2018 10:16 AM IST
The Punjab transport department on Friday increased the bus fare by 6 paisa per kilometre in the wake of hike in diesel prices. This is second time in the past four months that the state government has increased the bus fare. In February, the fare was increased by Rs 2 paisa per km.
Due the ever-rising prices of diesel, the Pepsu Roadways Transport Corporation (PRTC) had recommended the state government to increase the bus fare by 6 paisa per km — 3 paisa as infrastructural charges and 3 paisa as diesel charges.
With the fresh hike, the travelling cost in an ordinary bus will be Rs 1.10 per km against the previous Rs 1.04 per km. A traveller will have to shell out extra Rs 6 for a journey of 100 kilometres. The fare of air-conditioned buses is now Rs 1.32 per km against 1.26 per km, which is 20% more than the ordinary buses.
While those travelling in an integral coach (luxury bus) will have to pay Rs 1.98 per km, the charges of a super-integral coach will be Rs 2.20 per km, double the fare of an ordinary bus.
PRTC to generate extra Rs 1.8 crore a month
The hike in bus fare will help cash-strapped PRTC to generate an extra income of Rs 1.8 crore per month. PRTC managing director Manjit Singh Narang said the additional revenue will be a boon for the corporation, which will help it bridge the gap between its income and expenses.
"The move will add Rs 6 lakh to the Rs 1.25 crore daily revenue of the PRTC," Narang said.
Narang said earlier, the gap between the PRTC's income and expenses was pegged at around Rs 1 crore per month. "Now, we are going to generate around an extra 1.8 crore per month, which will help in bringing down monthly losses," Narang said.
For the first time in past one decade, the PRTC is running its full fleet of 1,073 buses in its nine depots –Ludhiana, Kapurthala, Chandigarh, Patiala, Bathinda, Budhlada, Barnala, Faridkot and Sangrur.
Win-win situation for PRTC
The PRTC is also likely to save at least Rs 5 crore annually on diesel expenditure, following a fresh rebate of Rs 1.55 per litre on diesel price by the Indian Oil Corporation (IOC).
On May 22, the PRTC, being a bulk purchaser of diesel, had signed a memorandum of understanding (MoU) with the IOC for rebate in diesel prices. The PRTC's daily consumption of diesel is estimated at 85,000 litre. Last year, the PRTC got a rebate of Rs 1.32 per litre.
Close Story