Intensified BSF vigilance hits drug smuggling into Punjab, but it's not enough
Hindustan Times, Chandigarh |
, Chandigarh
Jatinder Kaur Tur
Jun 27, 2018 03:59 PM IST
Figures related to drug seizures, shared by the BSF with the HT reveal that nearly 290 kg drugs were confiscated in 2012, 318 kg in 2013, 359 kg in 2014 and 345 kg in 2015
Though five-year data on drug seizures indicates that attempts by the Border Security Force (BSF) to plug holes along the international border in Punjab have partly hit drug smuggling from Pakistan, BSF officials feel a lot more needs to be done to stop the inflow of contraband.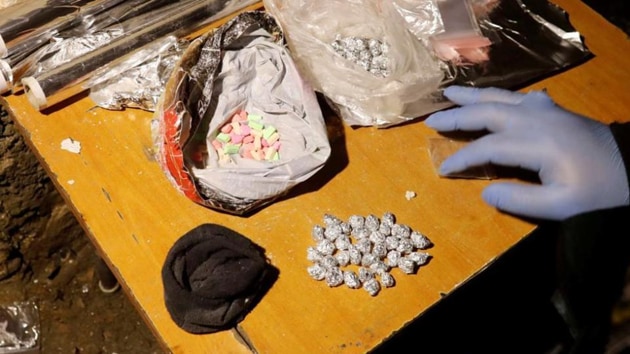 The smugglers deal only in heroin.
Figures related to drug seizures, shared by the BSF with the Hindustan times reveal that nearly 290 kg of drugs were confiscated in 2012, followed by 318 kg in 2013, 359 kg in 2014 and 345 kg in 2015. There was significant drop in drug seizures, about 222.9 kg, by the BSF in 2016, a period that corresponds with the January 2016 Pathankot Air Base attack, says Kamal Nayan Choubey, additional director general (ADG), BSF, Western Command. This was when five additional battalions were deputed along the nearly 553 km long the border. The additional manpower could have resulted in more thorough vigilance, he says.
In 2017 again 285 kg of drugs were impounded by BSF, an amount much lesser than the drug hauls of 2013 to 2015, attributed again to alert BSF men foiling many unsuccessful infiltration bids and confiscating drug consignments after tip offs through the BSF's information network.
In this year so far only 144 kg (approximately) of drugs have been seized.
Choubey also said that the BSF is now coordinating with the Narcotics Control Bureau and the Punjab Police to check the problem. "In an ongoing project the BSF is shifting the barbed wire fence in a 20 km stretch of the India-Pakistan border in Gurdaspur close to the international border to check the smuggling of contraband".
Sharing the ambitious plan of safeguarding the nearly 35 km long riverine areas along the border, Choubay said, "No one gazette or technology is enough for these riverines to effectively check the influx of drugs as well as infiltrators. The topography is very different when compared to other borders in India or the world known for smuggling, such as Mexico, where under-water drug tunnels or scuba divers are also engaged for smuggling. Such attempts cannot be executed here and we are ensuring a multi-tier vigil, including (patrolling) by armed BSF personnel and high tech safety walls for detection of any intruders."
A number of challenges exist when it comes to curbing smuggling, including rehabilitation of drug couriers bringing in the contraband to villages within 15 km of the India-Pakistan border in Punjab, BSF officials say.
An official not wanting to be named as he is not authorized to speak to the media, says a lot more needs to be done to prevent entry of drugs into India. "It's very simple. The drugs on the other side of the border are cheap and find a good price here. We have farmers tilling the land across the barbed wire and a lot of farm labour, too, is employed. Checking for a needle in the haystack is impossible, as is searching the harvested crops being transported in the state in trucks and tractors."