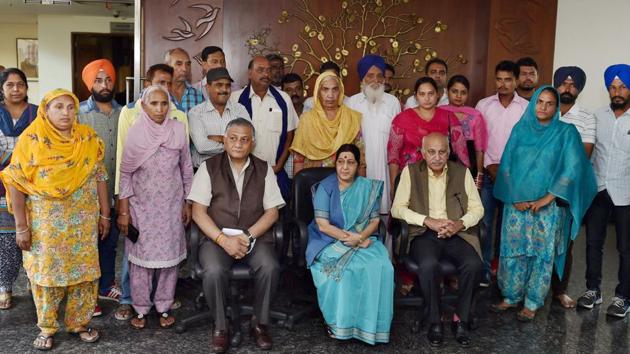 Kin disheartened as Swaraj says missing Punjabis are in ISIS-zone
Talking to HT, Gurpinder Kaur, one of the family members said, "I met the Union minister today but I am disheartened. We all came with lot of hope but things are not moving forward and there is hardly any clue. Almost everyone is disheartened but we hope wherever all youth are they remain safe."
UPDATED ON JUL 17, 2017 09:13 AM IST
After Union external affairs minister Sushma Swaraj informed the families of Indians missing in Iraq that they might be in Badush jail which was yet to be freed from terror group ISIS, the families who were in Delhi on Sunday are a disheartened lot.
They have been knocking the doors of the government since reports of the abductions came in. A ray of hope emerged last week when Iraqi Forces freed the city of Mosul from ISIS and the Indian government sent its officials to Iraq to trace the 39. However, no concrete clues emerged of their location.
Talking to HT, Gurpinder Kaur, one of the family members said, "I met the Union minister today but I am disheartened. We all came with lot of hope but things are not moving forward and there is hardly any clue. Almost everyone is disheartened but we hope wherever all youth are they remain safe."
Read | Sushma Swaraj says missing Indian hostages were last located in an Iraqi prison
The minister told that inputs from Iraq have come that the 39 Indians might be in Badush prison which is still under the influence of the ISIS and the clashes are still on there with the Iraqi troops, added Gurpinder, who waits for her brother Manjinder Singh to come home.
"Issue is that last time when we met the Minister we were told that the Indian government had had concrete information about the location of the Indians there. But now it seems that those inputs were wrong. We are disheartened."
He added that every family was waiting for good news.
"We thought that the government will find them once Mosul is free but now with Government saying that they are likely in Badush prison, we have no option other than waiting for fights to end there."
Earlier they told that they have inputs that all youth are in a church in Mosul but now they say their input was not right. The government is standing where it was, she added.
Similarly Harbhajan Kaur also said that it was disappointing that till now there is no concrete information about the missing youth.
She is waiting for her son Harsimranjit Singh to return home. He is also among the 39 missing and hails from Babbowal village in Amritsar district.
Notably, out 39 Indians missing in Iraq, most of them hail from Punjab.
The families have met the minister around 12 times over the issue and now after Mosul got free; the MEA had called the families to Delhi on Sunday to meet the Minister.
The mobile phones of all the Indians are not working since past three years and no family member has established any contact with them.
All the youngsters who went to Iraq had gone there to eran livelihood but there is no word on them after they were abducted by the ISIS.
Close