Malwa farmers in a fix as labourers seek higher wages for cotton-picking
Updated on Sep 16, 2017 03:10 PM IST
Most of the labourers' families are staying on the railway station premises and have food at the langar at a nearby temple.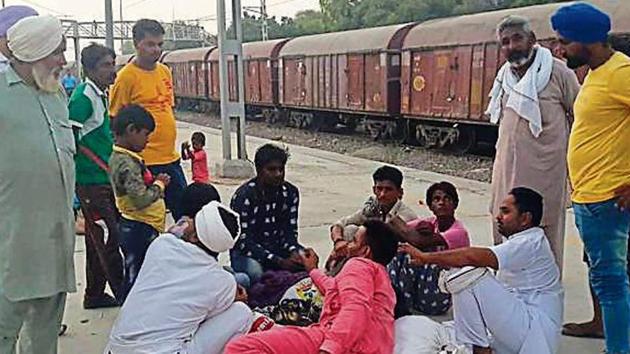 In the last one week, the Mansa railway station has had a huge footfall with the arrival of families of migrant labourers from Bihar, Uttar Pradesh and Madhya Pradesh. With the cotton harvesting season round the corner, farmers from across the district have been queuing up at the station to hire labourers for plucking the crop.
But the farmers are in a dilemma this time. After their crop was hit by waterlogging and whitefly attack, resulting in a low yield, they are not able to get good price for the produce which has already reached the market. And now the labourers' demand for higher wages has only added to their worry.
Most of the labourers' families are staying on the railway station premises and have food at the langar at a nearby temple. "We have come here with our families and are expecting good rates for plucking cotton," said Baldev Kumar, a labourer from Madhya Pradesh.
"We come here every year for two months. The landlords or farmers provide accommodation and food. We arrived little earlier this time. Till someone hires us, we are getting food from the temple," said another labourer.
"Last year, we got up to Rs 6,000 for a quintal crop and we could afford to pay Rs 400 (per quintal) for plucking. This year, we have been at the receiving end due to the whitefly attack and waterlogging. And now the per quintal rate has not crossed the Rs 5,000 mark. The labourers are demanding Rs 500-600 for plucking per quintal crop," said Gurmeet Singh, a farmer from the district who is a frequent visitor at the railway station.
Farmers also complained that unlike previous years, most of the labourers have arrived with contractors for security reasons in the wake of to the recent dera violence. "These contractors negotiate on the behalf of the labourers and hence they quote higher rates keeping their own cut in mind," said another farmer.
Farmers demand admn to fix labour rate
The farmers have urged the district administration to fix the cotton plucking rates considering the yield. "Every year, the cotton produce and its subsequent rate vary in the state. The administration should fix the rate so that the labourers and farmers don't have to waste their time," said Lal Singh, a farmer from a nearby village.
Some farmers even said since the labourers stay put on the railway station premises and get free langar food it allows them to quote higher rates and hence they should not be allowed to stay there soon after de-boarding trains.
Personalise your news feed. Follow trending topics