Punjab cabinet sets the ball rolling for disinvestment of 3 PSUs
Jun 28, 2018 01:41 PM IST
Decision based on recommendations of Punjab Governance Reforms and Ethics Commission
In a bid to bridge the revenue and fiscal deficits, and to raise funds for the cash-crunched state exchequer, the Punjab cabinet on Wednesday approved disinvestment of three loss-making public sector units (PSUs) — Punjab Communications Limited (Puncom), Punjab Financial Corporation (PFC) and Punjab State Industrial Development Corporation (PSIDC).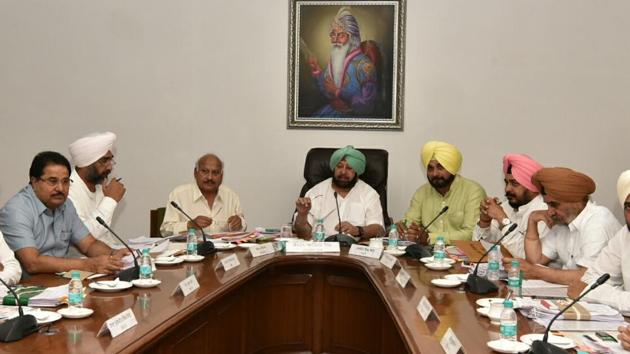 The decision is based on the recommendations of the Punjab Governance Reforms and Ethics Commission (PGREC).
The process will be carried out by a core group of officers under the chairmanship of the chief secretary, along with a transaction adviser, said a spokesman after a meeting of the council of ministers, chaired by chief minister Capt Amarinder Singh.
Besides the chief secretary, the core group will include principal secretary, finance; principal secretary to the CM; administrative secretary of the department concerned; and managing director of the PSUs concerned. The director of public enterprises and disinvestment will be its member-convener. A report will be submitted to the council of ministers for the final decision.
The cabinet, which felt the disinvestment will help in raising funds for capital expenditure and infrastructure development, noted that the state earned only ₹4.9 crore as dividend in 2017-18 from its 50-odd PSUs, while the state's resources locked up in these PSUs amount to ₹7,614 crore.
Outstanding government loans of these PSUs are ₹25,393 crore, and unpaid loan against government guarantee stands at ₹18,312 crore, as on March 31, 2018 (approximate figures provided by spokesperson).
Know the PSUs
Punjab Communications Limited (Puncom) was established in 1981; promoted by state government through Punjab Information and Communication Technology Corporation Limited, with 100% equity. At present, the government holds 71.28% stake, amounting to Rs.8.57 crore. In 2017-18, Puncom suffered loss of ₹3.81 crore, and accumulated losses (tentative) as on March 31 last stood at ₹20.5 crore.
Punjab Financial Corporation (PFC), incorporated under the State Financial Corporations Act, 1951, came into existence in 1953 with objective of granting loans for establishment of new micro, small and medium enterprises (MSME). State holds 72.57% stake in the corporation that was in profit till 1996-97. Due to high-cost borrowings and stiff competition from commercial banks from 1998 onwards, the corporation moved into the red, according to the government. Accumulated losses as on December 30, 2017, were ₹275 crore.
Punjab State Industrial Development Corporation (PSIDC), incorporated in 1966 for the development of large and medium scale industries, is a 100% state subsidiary. Its share capital was ₹66.5 crore at time of incorporation, current is ₹78.2 crore. Present liability of PSIDC towards bonds guaranteed by the state is ₹601 crore, and interest due thereon till date is ₹143 crore, thus total liability is ₹744 crore.