Punjab: Large number of fish found dead in Beas river due to release of sugar mill fluid
May 17, 2018 11:25 PM IST
The incident happened after a molasses from a sugar factory leaked into the river.
Countless fish and other aquatic animals were found dead in Beas river on Thursday due to water contamination reportedly caused by release of a chemical fluid from a sugar mill situated on the shore of the river.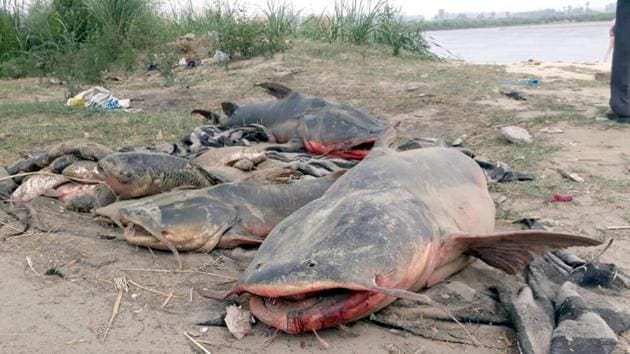 The fluid came from 'Chadha Sugar Industries Private Limited' that is located at Kiri Afgana village near Sri Hargobindpur in Gurdaspur district. However, the administration claimed that it was an accidental release of the fluid.
The people who live or work along the river noticed that the colour of the river water turned dark red in the morning and dead fish floated on it, especially in Amritsar, Tarn Taran and Kapurthala districts. Hundreds of dead fish were found on the bank of the river.
Amritsar deputy commissioner Kamaldeep Singh Sangha, who rushed to the river bank along with forest and wildlife department officials, said, "There was a blast in the boiler of sugar mill when they were preparing molasses in it. It resulted into leakage of fluid into the river water. The fluid led to increase of biological oxygen demand (BOD) in the water, resulting into fall of oxygen content. This caused the death of fish and other water animals."
Molasses or black treacle is a viscous product resulting from refining sugarcane into sugar.
The DC said measures are being taken to prevent further death of fish. The experts collected water samples for examination.
Minister OP Soni visits river bank
Meanwhile, education and environment minister OP Soni ordered an inquiry into the matter. The minister, who visited the bank of the river at Beas town along with Amritsar MP Gurjeet Singh Aujla, also ordered that the sugar mill operation be shut immediately.
Soni said teams from the wildlife department and pollution control board were called and till now they have found no other toxins in water.
Deputy commissioners of the affected districts appealed to people to shun bathing, eating fish and giving river water to cattle for drinking till the water is not cleaned.
Meanwhile, noted environmental activist Balbir Singh Seechewal said release of any chemical fluid into the river water is violation of the Water Act, 1974, and chemical substances put the animal life on high risk. He said the death of fishes in Beas river is a big disaster and chief minister Capt Amarinder Singh should intervene into the matter to ensure strict action against the guilty.