Rumours hit govt's measles, rubella vaccination drive; govt ready with counter
Updated on May 04, 2018 10:43 AM IST
The health department has formed 5,200 teams of doctors and paramedics and has also taken to social media to counter the rumours. The teams are also visiting schools to counsel students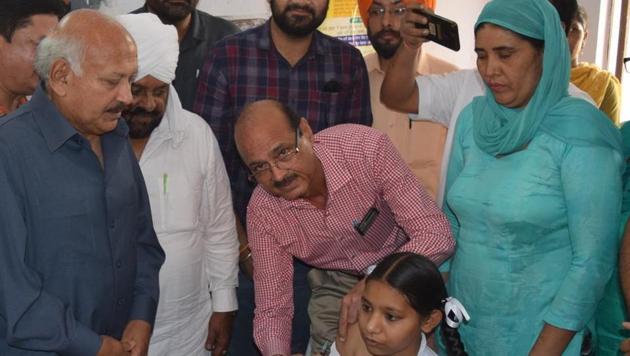 With a rumour and misinformation campaign hitting the state government programme to vaccinate 73 lakh children against Measles and Rubella (MR), the government has launched its own campaign as a counter.
The health department has formed 5,200 teams of doctors and paramedics and has also taken to social media to counter the rumours. The teams are also visiting schools to counsel students.
The state-wide vaccination drive, part of the Universal Immunisation Programme, was launched on May 1. Despite the negative campaign on social media, around 4.2 lakh children have been administered the vaccine on the first two days.
On Day 1, 2.35 lakh children were vaccinated. Before the drive, misinformation that the vaccine caused side-effects and even long-term adverse effects had created a scare among children and their parents. Subsequently, some students refused to have the vaccination administered.
"Despite the rumours, we managed to get a good kickstart. I appeal to parents to get their children vaccinated to defeat the disease," said health and family planning minister Brahm Mohindra.
He also appealed that no one should spread rumours and that the vaccination was known to have a positive impact. "Those spreading rumours are anti-Punjab," the minister added. He went on to add that even when anti-polio and anti-malaria campaigns were launched, there was a lot of opposition.
State immunisation officer Dr GB Singh told HT that the department was facing problems in convincing parents to let their children be vaccinated. "It is shocking that the some paediatricians were also involved in vicious rumour-making," he said. He added the vaccination was being administered free of cost at all government hospitals, while a private doctor charged between ₹500 and ₹1,000 per case.
"The government also has the best-managed cold chain for movement and preservation of vaccines, even better than the majority of private nursing homes and hospitals," Dr Singh added. As per the National Family Health Survey, 2015-16, Punjab has achieved a target of 89% vaccination against the national average of 62% of population.
Govt advisory on MR vaccination
Additional dose is a must
Parents have been seeking clarity on whether children who have been administered the MR vaccination previously, need to get it again. Answering this, Dr Singh said, "The additional dose that the government is giving free of cost will help eradicate the diseases, Measles and Rubella, in a big way."
Fever after vaccination is a good sign
The state immunisation officer clarified that in the misinformation campaign, mild fever after the vaccination had been dubbed as an immediate side-effect. "This is a misnomer. Fever is a good sign, of the positive impact of the vaccination," he added.
Topics
Personalise your news feed. Follow trending topics