Sold as 'bonded labour' in Muscat, Jalandhar woman rescued after over 9 months
Jalandhar- based Parveen Rani, 26, was sold to a farmer by her travel agent.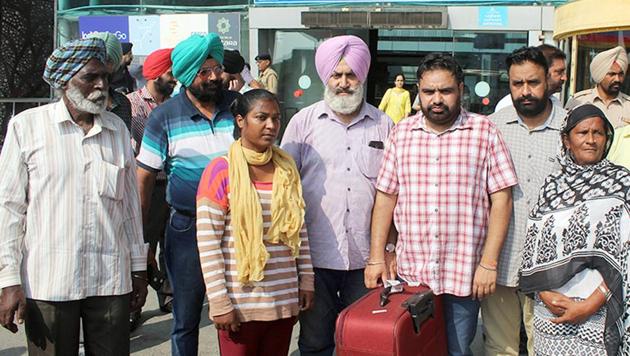 Updated on Sep 11, 2018 11:48 AM IST
Hindustan Times, Amritsar |
, Amritsar
Anil Sharma
A 26-year-old Jalandhar-based woman, who was sold as a 'bonded labourer' by an Indian travel agent in Muscat, returned to India after being rescued, here on Monday.
Parveen Rani reached at Sri Guru Ram Dass Jee International Airport, here at 11 am. Rani, who was rescued after over nine months broke down on seeing her family — father Joginder Singh, mother Simarjit Kaur, sister Kawaljit Kaur and brother-in-law Harpal Singh — at the airport.
Jalandhar's Mehmuwal Yusufpur village resident, Rani had gone to Dubai in November 2017, from where she was sold to a farmer.
"In 2017, I came in contact with travel agent Sukhdev Singh of Talwandi Butian village, Jalandhar, through one of my relatives. He promised to send me to Dubai and arrange a job with ₹30,000 per month as salary. I also paid him ₹60,000 for the same," Rani said.
"I reached Dubai on November 20, 2017, from where Sukhdev took me to a travel agent's office, confiscated my passport, and then sold me to a farmer of Muscat. At the travel's agent's office, there were around a hundred girls from across the world who were also being sold. Among them, around 10 were from India," she said.
'Was thrashed and threatened'
"The farmer took me to his home and I was forced to do bounded labour at his farm. He used to thrash me. He also pointed a gun to my head and threatened to kill me. Fearing for my life, I used to work from early morning till late night. It was a terrible life," Rani said.
She said after some time she managed to contact her family, who then contacted NGO — Sarbat Da Bhala Charitable Trust (SDBCT) — and a hotelier in Dubai, SP Singh Oberoi.
"Oberoi paid the farmer for my release," she said, thanking the organisation and the Dubai-based hotelier for giving her 'a new lease of life'.
"It is a big racket involving human trafficking and is being run by fake travel agents of India in collaboration with their Dubai counterparts," she said.
SDBCT's Majha zone president Sukhjinder Singh, who was also present at the airport, said, "The state government should take strict action against such travel agent and these rackets should be busted immediately to save innocent girls."
In July, three girls from Tarn Taran district—Simranjit Kaur and Sandeep Kaur of Pandori Gola village, and Ravneet Kaur of Sheron village—were rescued from the United Arab Emirates (UAE). The trio was trafficked by a travel agent Yusuf Pallam Ibrahim, who was booked for human trafficking, and is absconding.
Close Story
Personalise your news feed. Follow trending topics