Rajasthan Assembly Election 2018: Audio surfaces of Pakistani cleric 'seeking support' for BJP
Updated on Nov 28, 2018 09:56 AM IST
Rajasthan assembly election 2018: The audio clip, purportedly of a Pakistan-based cleric, is being heard in western Rajasthan in which the cleric is heard asking Muslims to vote for the BJP in the assembly elections.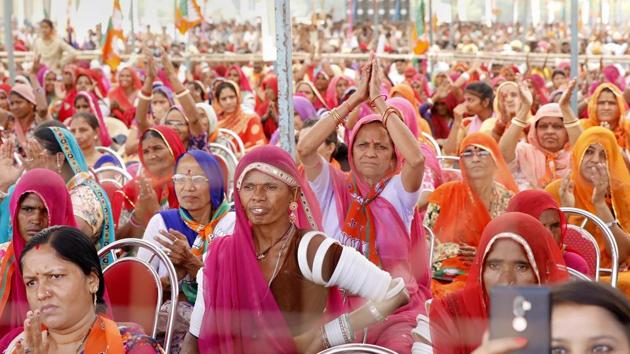 Hindustan Times, Barmer |
, Barmer
Mukesh Mathrani
An audio clip, purportedly of a Pakistani cleric, is circulating in western Rajasthan, especially in areas close to the international border inhabited by Muslims. Through the clip, the cleric has sought support for the BJP in the December 7 assembly elections.
Barmer and Jaisalmer districts have around 300,000 Muslim voters; most of them are Sindhi Muslims, many of whom are followers of clerics in Pakistan.
Until 2015, a spiritual leader, Pir Pagaro influenced voters in the border areas, but in 2015, another cleric, Taj Hussain Shah Jilani visited the area, creating a divide among the followers. Pir Pagaro operated through his representative in India, Gazi Fakir, who spreads the poll message. His son, Saleh Mohammad, is contesting the assembly election as Congress candidate from Pokaran.
Following his visit, Jilani also appointed some representatives in this part of the state.
In the audio circulating in Barmer, purportedly by Jilani's son, Ali Hussain Shah Jilani, the message is to support BJP in western Rajasthan. The cleric has especially appealed to his followers to vote against Ameen Khan, the Congress candidate in Sheo constituency.
Read | Rajasthan assembly elections 2018: Unemployment dole, jobs in BJP manifesto
In the message, Jilani is heard saying that some people are spreading rumors that in this election BJP has maintained distance from the Muslim community. He says that it was the BJP government that had helped them in meeting with their spiritual leader, referring to the February 2015 visit of Peer Syed Taj Hussain Shah Jilani of Sangra in Pakistan to attend a wedding in Jaipur. He had visited the border areas between February 26 and March 6 that year and addressed four public rallies, urging his followers to support chief minister Vasundhara Raje in all her endeavours.
HT could not confirm the authenticity of the audio.
Also Read | Campaigning for Assembly polls gathers steam in Rajasthan
Meanwhile, Congress candidate Ameen Khan said he had no idea about the audio clip. "The Muslims have decided to disallow any intervention from Pakistan in the election and they will vote according to their wish," he said.
Khan alleged that there were chances that the BJP itself was doing the propaganda politics to mislead voters, and said such tactics will not work this time.
Barmer district collector Shivprasad Madan Nakate also said he wasn't aware of the clip. "I need to check it before making any comment on it," he added.
For complete coverage of Rajasthan Assembly Election 2018, click here
Personalise your news feed. Follow trending topics