Former Jharkhand tribal MP revolts against tribal tradition Sendra
May 11, 2017 04:29 PM IST
The ex-MP writes to Prez, PM seeking action against those who uphold such a tradition and also penalise forest officials who failed to discharge their duties in saving wildlife
Former Jharkhand tribal MP Salkhan Murmu has revolted against the traditional tribal festival Sendra. Anguished by the merciless killing of animals and birds in the wild during the festival last Monday, Murmu has written to the President Pranab Mukherjee and Prime Minister Narendra Modi to take stringent action against those who uphold such a tradition and also penalise forest officials who failed to discharge their duties in saving wildlife.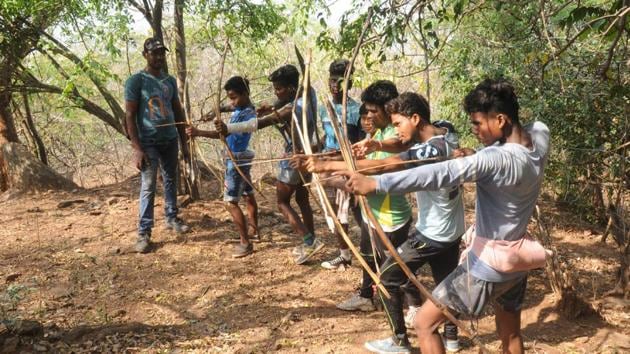 Sendra, also known as Bishu Shikar, is a tribal festival observed on a particular date in May every year, wherein tribal men and women armed with traditional weapon raid the jungles and kill animals and birds.
The festival was observed on May 8 in the protected Dalma Wildlife Sanctuary (DWS), a famous abode of domestic and migrant elephants near Jamshedpur. The revelers reportedly killed six wild animals, including two national birds-Peacock, three deer and a wild boar, during the festival.
Murmu said wild animals are already under threat due to several reasons. "The festival threatens wild life and the practice must end immediately. The world is changing and tribals have to change now," he said.
Murmu, in a letter to the President and the Prime Minister, demanded action against forest department officials, who failed to check the killing of animals in the sanctuary and the tribal people, who committed the crime.
The Wild Life Protection Act, 1972, strictly prohibits the killing of scheduled animals or animals protected by the law. Though the Scheduled Tribes and Other Traditional Forest Dwellers (Recognition of Forest Rights) Act (FRA), 2006, recognise the right of tribal communities over forest produce, it excluded forest animals from the definition. In other words, the law prohibits forest communities from practising their traditional right of hunting, trapping or extracting a part of the body of any species of a wild animal.
Despite the law, forest department allows the tribals to follow their tradition in the sanctuary, Murmu said. "Forest department claims every year that they have talked to various tribal communities not to kill animals. But, the facts suggest otherwise," said.
He said if cinestar Salman Khan faced trial in a deer killing case, why should forest officials who allowed it in the jungle and people who kill the animals be allowed to go scot free.
Sendra Samiti president Rakesh Hembrom said the festival has been a part of tribal identity. "We celebrated it even this year but our people did not kill any animal. We will identify those who killed animals, if any."
Principal chief conservator of forest (wildlife) LR Singh said, "We do not have information of killing of animals in the sanctuary area. Some vernacular dailies have published photographs of a few killed animals. We are verifying it. If it is found correct, appropriate action would be taken."