Ranchi vendors to get permanent establishment
Chief minister Raghubar Das laid the foundation for a vendors' market complex at Jaipal Singh stadium.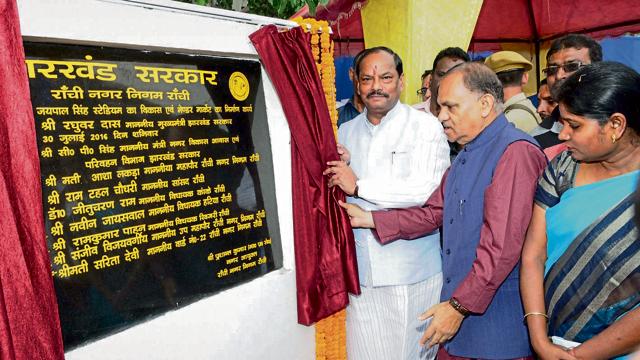 Updated on Jul 31, 2016 04:18 PM IST
Street vendors in Ranchi are set to receive a permanent establishment after struggling for the same for half a decade, with chief minister Raghubar Das laying the foundation for a vendors' market complex at Jaipal Singh stadium on Saturday.
The vendors' market will accommodate 460 vendors.
"The government is committed towards providing vendors of the city an opportunity to earn their livelihood with dignity. This vendor's market is step in that direction," Das said.
He added that in the coming months, the vegetable vendors too will be provided with a similar separate facility. "The government will soon construct an urban haat, Ravindra Bhavan and a convention centre," said Das.
Urban development minister CP Singh, Mayor Asha Lakra and municipal commissioner Prashant Kumar were also present during the occasion.
A separate vendor's zone and proper rehabilitation has been a long-drawn demand for hawkers in the city. In the absence of a permanent place to set up their shops, these hawkers cover almost half the roads of the city, many at prime locations. This leads to long traffic snarls and congestion, much to the woes of the commuters.
"The market complex will be a multi-storied building. The vendors' market will be set up at the ground and first floor. The second floor will have shops, while offices will occupy the third floor and the top floor will have banquet halls," said Ranchi Municipal Corporation's chief engineer, Suresh Paswan.
The Jharkhand high court had on April 6 ordered the district administration and the RMC to evict hawkers and make the Mahatma Gandhi Road (Main Road) a vending-free zone and to rehabilitate hawkers.
Recently, the RMC conducted a digital survey of the city hawkers with a view to provide them with proper identification cards and officially register them.
The survey stated that the total population of hawkers in the state capital was 6,753, with 1,438 vendors on the MG Road alone.
However, the hawkers say that they have no representation in the town vending committee (TVC), which was formed by the RMC.
"According to the Protection of Livelihood and Regulation of Street Vending Act, 2014, the TVC should have 40% representation of street vendors. But the current TVC has no hawkers in the committee," said general secretary of Ranchi Footpath Dukandaar Sangh, Anita Das.
She said that none of the hawkers have been given the ID cards till now and haven't been registered. "The TVC decides on the planning of rehabilitation of vendors and their interests. Currently, the foundation of the vendor's market has been laid in a hurry without much planning for the interest of vendors," said Das, adding that the market complex will not be adequate for all the vendors of the city.
Close Story